Mother Courage and Her Children
An exhibition of performances, films and soundworks
Humans are creatures of habit who tend to be attracted to what they know. When we encounter something that we perceive as new and perhaps incomprehensible, it takes courage and curiosity to address what we do not understand. Irrationality as an act of resistance runs like a connecting thread throughout the exhibition Mother Courage and Her Children. Courage is not only essential for engaging the body in physical resistance but also for dealing with the unknown, daring to trust one's intuition and creating something new.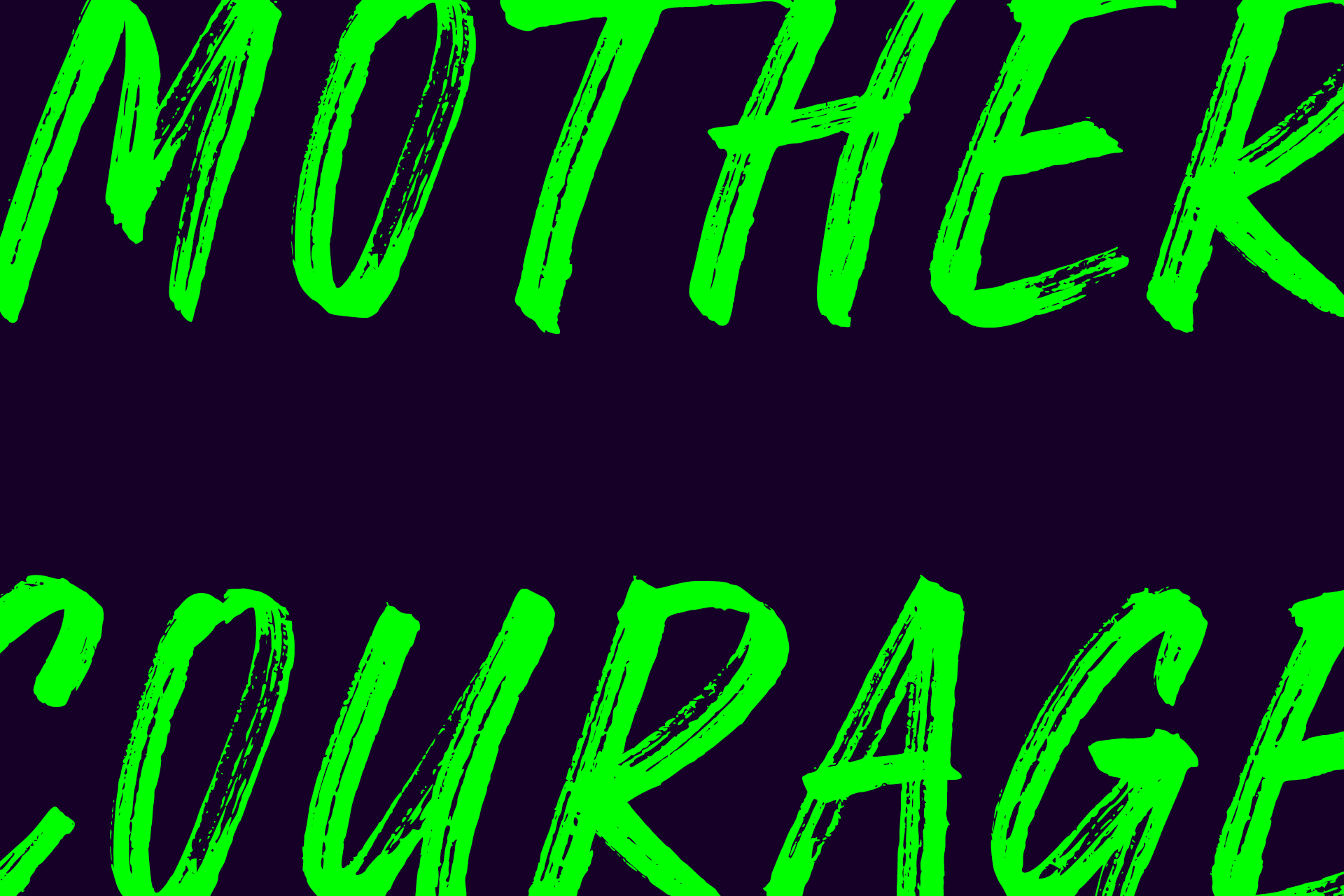 About the exhibition
The exhibition title is borrowed from the eponymous play by the German playwright and poet Bertolt Brecht. Brecht wrote the play as an anti-war drama during his exile in Sweden in 1939. The protagonist, Mother Courage, pulls her cart with merchandise from battlefield to battlefield during the Thirty Years' War (1618–1648) peddling overpriced provisions to soldiers. The play describes how war creates dilemmas that are difficult to navigate and brings out the dark side in people. Mother Courage sacrifices morals as well as love, and even her children, in her quest for money.
How could Mother Courage have resisted? In a time characterised by fear and rearmament, Accelerator wants to make room for the poetic and highlight the subversive power of the irrational. The exhibition Mother Courage and Her Children presents immaterial works that, in various ways, depict courage or acts of resistance. Performances, films and soundworks that address feelings of fear and frustration and leave space for agency, hope and community.
Mother Courage and Her Children is presented in parallel with Tori Wrånes' exhibition BIG WATER. Wråne's practice is distinguished by a desire to move beyond cultural norms, codes and categories. Tori Wråne's bizarre and surreal depictions contain a strong element of humour, desire and energy, which underlines the explosive force of moving in the irrational.
The exhibition is curated by Richard Julin and Therese Kellner.
Performance programme
Ongoing through 12 February 2023:
Maria Kulikovska, President of Crimea, Since 19th of March, 2014
8 October 2022:
Roberto N Peyre, Lövaman and Labryo – This Turning Europe
29 November–11 December 2022:
Cristina Caprioli/ccap, SILVER
11–21 January 2023:
MYCKET, STRUGGLEOKE with banner workshops
3–5 February 2023:
Radioart with Johan Petri and Ivo Nilsson, Red Doc


Temporary performance works will take place in the large exhibition space and the film programme will be paused for the duration of the performances. Maria Kulikovskas performance President of Crimea, Since 19th of March, 2014 is presented in the samller exhibition space next door and will be ongoing throughout the whole exhibition period.
Maria Kulikovska (b. 1988)
President of Crimea, Since 19th of March, 2014 (2020–2022)
A work consisting of two cast iron bells, drawings and performance. The two iron bells are casts of the artist's body. Inside the hollow shape are metal-shaped batons that can be used to chime the bells. The artist regards the sculptures as "poles around which all her other actions swirl". At Accelerator, Kulikovska's site-specific drawings relate to a planned development of her work President of Crimea that was put on hold because of the war in Ukraine. The idea is to cast four bells in bronze in the form of bodies featuring different faces: the artist's grandmother's, her mother's, her baby daughter's and her own. For this exhibition, the intention was to cast the bells in a foundry in Chernihiv, Ukraine, which has a long tradition of casting church bells. Foundries still exist but due to the war they are experiencing many difficulties. The project at Accelerator is a starting point for producing these four future sculptures in Ukraine as soon as possible.
The bells in the exhibition will chime when there is an air raid in Ukraine – as a reminder that the war is still going on. During the first days of the exhibition the artist will perform the chiming in the space; after which the task will be passed on to Accelerator's exhibition hosts. The hope is that the bells will chime as little as possible and that they will become silent sooner rather than later.
Bells produced in collaboration with Oleg Vinnichenko.

Performance date: ongoing through 12 February 2022.
Maria Kulikovska (b. 1988, Kerch, Autonomous Republic of Crimea, Ukraine) is a multimedia artist, architect, actionist-performer, researcher and lecturer. Kulikovska first studied in Kyiv and received an MA in art and architecture from the National Academy of Fine Arts and Architecture. After working as an architect in China and Switzerland, she returned to art working with performance and sculptures. Kulikovska completed her second MA at Konstfack University of Arts, Craft and Design, Stockholm, in 2020.

In her art, Maria Kulikovska explores the transformation of her own body, researching its vulnerability and actively creating preconditions for feminist and queer discourses. She is on the list of banned artists in Russia.

After the Russian occupation of Crimea in 2014, Kulikovska has lived and worked in exile between Kyiv, Donetsk, Liverpool, London, Munich and Stockholm. Kulikovska has not returned to her hometown since 2014. At the end of December 2019, Kulikovska and Oleg Vinnichenko created and headed the international art space GARAGE 33. Gallery-Shelter for contemporary art(ists) from "conflict?". Both were co-architects of the art space, in which Kulikovska serves as art director and curator and Vinnichenko as CEO, architect and producer. They intended to open the gallery during the summer of 2022, but the war in Ukraine put a stop to their plans.

Kulikovska was living in Kyiv with her partner Oleg Vinnichenko, when in February 2022 the Russian invasion forced her and her newborn baby to flee to Linz in Austria where she was given an art residency by OÖ Landes Kultur. She currently lives in Helsinki on an HIAP art residency.

Since 2014, Maria Kulikovska has organised and produced political performances and actions and participated in exhibitions at numerous venues including: Francisco Carolinum, Linz, Austria; Neue National Gallery, Berlin; LudwigMuseum, Budapest; Q Collection, Budapest/Hong Kong; Saatchi Gallery, London; Mystetskiy Arsenal Kyiv; Crimean Platform, Kyiv and National Odesa Fine Arts Museum, Ukraine.

Maria Kulikovska studied the MA course of Fine Arts at Konstfack University of Arts, Crafts and Design, Stockholm, in 2018–2020, the Postgraduate Course "Modernist Legacies and Constructions of Whiteness" at the Royal Institute of Art, Stockholm in 2016–2017, BA and MA (Lector and Researcher) of Architecture and Fine Arts at the National Academy of Fine Arts and Architecture in 2007–2013, Kyiv, Ukraine.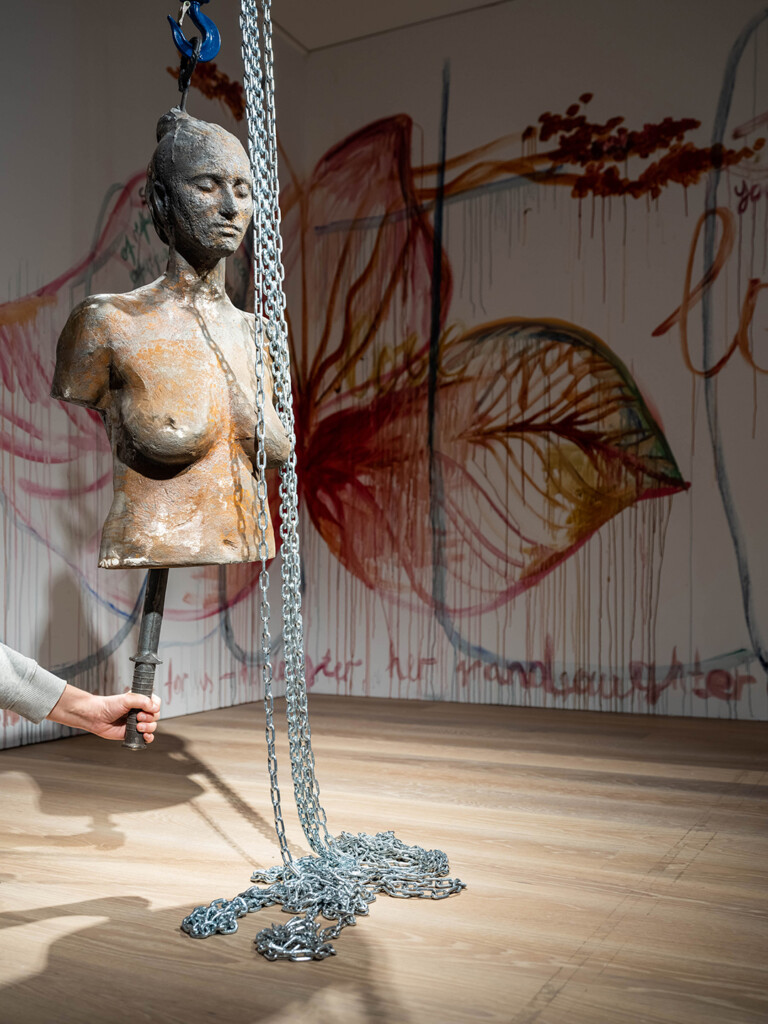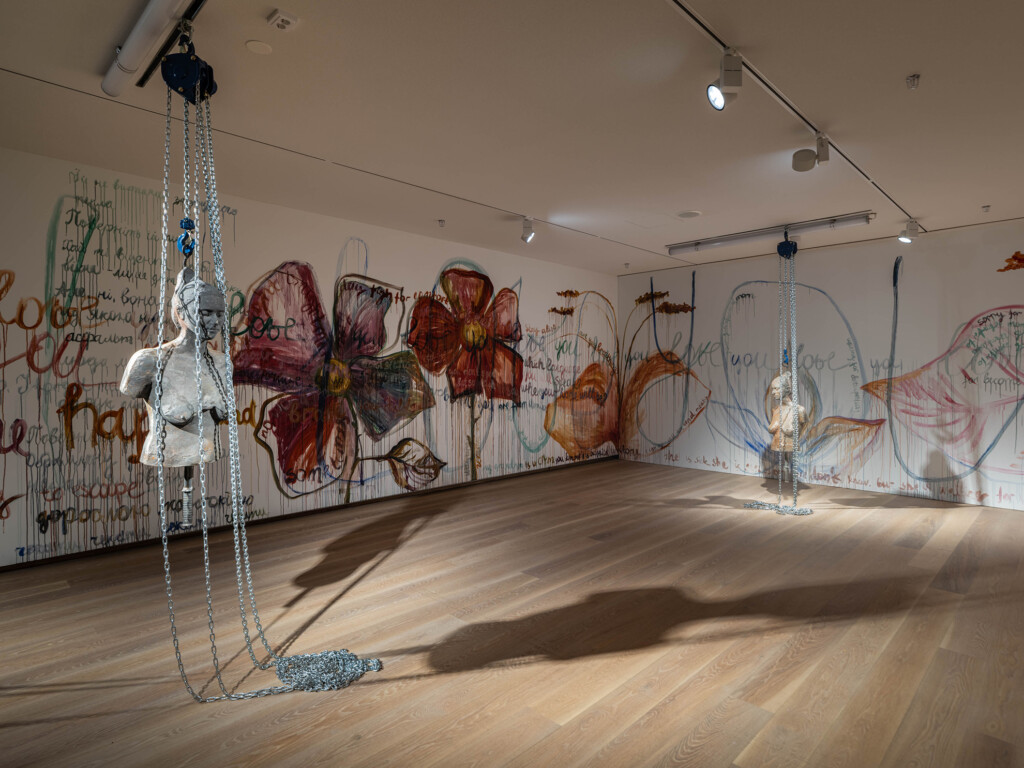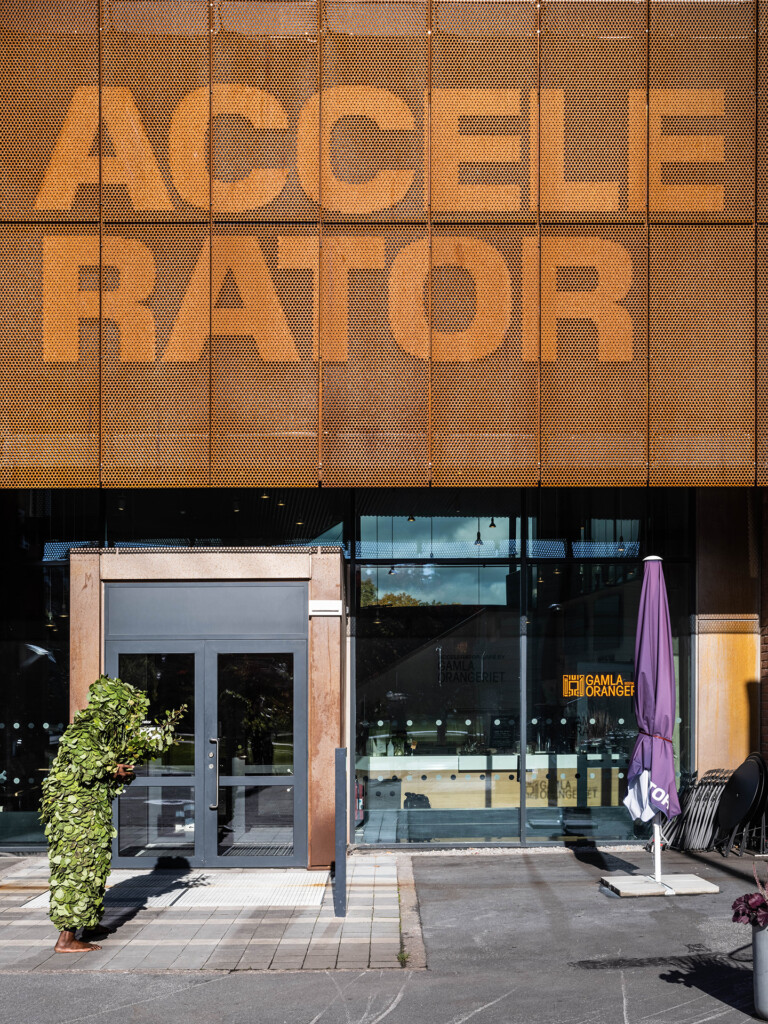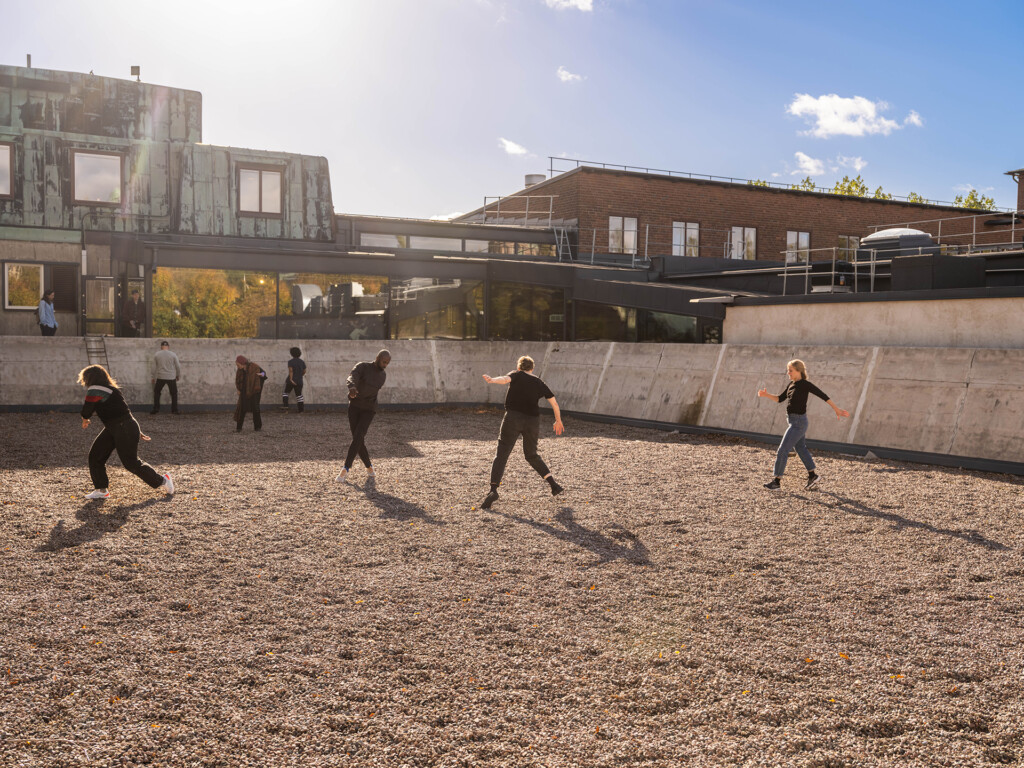 Roberto N Peyre (b. 1971)
Lövaman (2007–) and Labryo (2017–)
Lövaman is a recurring ritual performance that Roberto N Peyre has performed in many locations since 2007. The work involves the creation of a costume of leaves which is then worn by the artist, or others. It is a development of Peyre's project Ship of Fools (2001–2012), a multi-year investigation of transatlantic carnival cultures.
In the artist's own words, Lövaman is "a close case study of the veil, masking, and its inherent, both ancient and contemporary conceptions of a vectorial play between 'nature', and 'culture'. Lövaman is futurity yet archaic in its alchemical para-theatre of a green lion, alien hunter, subcultural icon, hermit, or chrysalis always becoming other realities."
Lövaman was last seen at the Venice Biennale in 2022 and previously at, among others, GIBCA (Gothenburg International Biennale for Contemporary Art) 2013, Henie Onstad Art Centre, Oslo, 2020, the Crack Forte Prenestino festival, Rome, 2015 and Gagnef Festival (Skankaloss), 2012.
Labryo is an installation performance and a temporary ensemble, directed by Roberto N Peyre in choreographic collaboration with the musicologist, pedagogue, choreographer and artist Barbara Crescimanno, expert on Chorós and traditional musicality of the Mediterranean.
Within the resonance of a recent surge in interests and engagements concerned with traditions of somatic practice and esoteric ritualism, animism, and notions of the sacred, not least in relation to cultural heritages, geographies and the human biotope, Labryo offers itself as a thorough engagement with traditionalism beyond mere visual representation. It is a careful listening to the programmations of sustainability and entitlement within tradition in itself.
Labryo makes a choreographic mythopoetic laboratory of de-writing and de-drawing of objecthoods, laying intuition bare and able, for what it's worth. Labryo is a function of de-programming processes utilising a thoroughly hyperstitious engagement in re-rendering a most prestigious European ethnomusicological heritage of social music and dance culture understood as so-called votive folkloric traditions, dating back to the foundations of classical antiquity in the Mediterranean basin. The artwork is a public manifestation of in-depth research on European ethnogenesis, indigenousness, borders and migration.
The seven headed ensemble consists of the performers Anna Koch, Roberto N Peyre, Shaya Khalil, Majula Drammeh, Anna Öberg, Caio Oliviera, Barbara Crescimanno.
Roberto N Peyre (b. 1971) studied Fine Art, Aural Visuals Cultures & Critical Theory at Goldsmiths, University of London. Roberto N Peyre works in Stockholm and many other places.
About Barbara Crescimanno
Barbara Crescimanno is the director of the ethnomusicological Institute Arci Tavola Tonda in Palermo, Italy where she teaches the course "Chorós" as part of her research programme "Ninfe di Sicilia".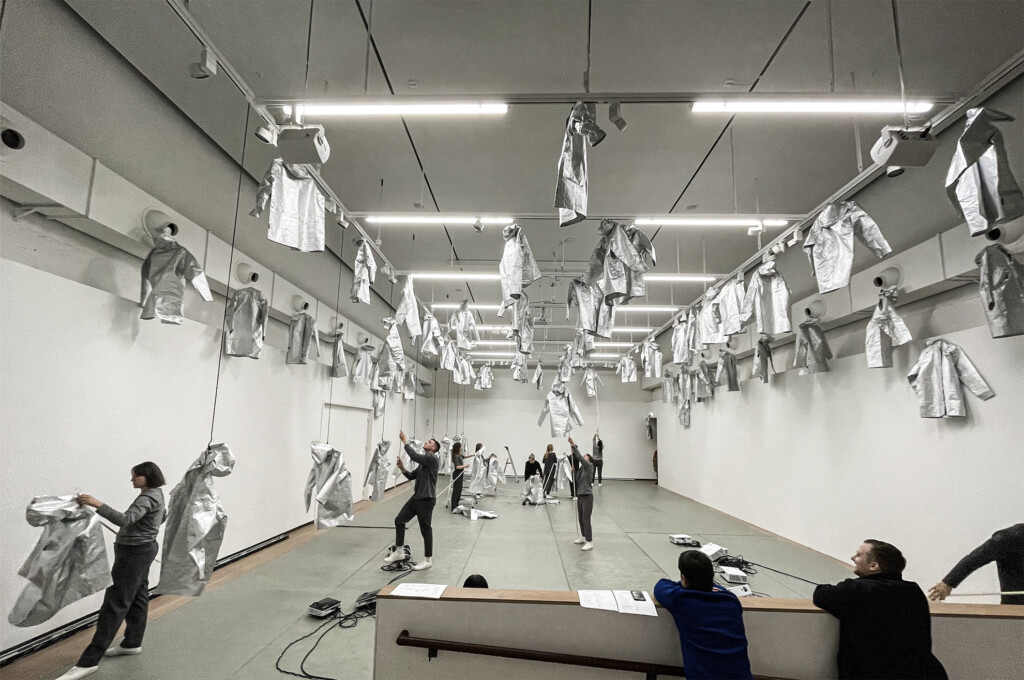 Cristina Caprioli/ccap
SILVER (2022)
One hundred silver coats lay scattered over the floor, upon the walls and into the air
Sometimes they are inhabited by people, or children who don't know whether to cry or play
For the most part, the coats remain empty, as if they were shells or other homeless things
Or they start dancing and demand all the attention
In a landscape that constantly shifts its horizon
SILVER is a chain of 'images'/'scenes' that shift one to the next every 10 minutes. More than the 'image' itself, it is the shift between that defines the image and turns it into a movement. Once in a while, SILVER is visited by dances from some time ago. Or dare a new direction. Regardless, another kind of diversity emerges, where every minimal difference is courted and affirmed.
The visitor puts on a silver coat and follows the shells with their eyes
Or gets into the game and constructs a ladder
Stays for a just a moment or a whole day
Talking quietly and listening to the dance
– Cristina Caprioli
Cristina Caprioli (b. 1953) lives and works in Stockholm as a dancer and choreographer. In the mid-1990s she founded the non-profit organization ccap, wherein she produces performances, installations, films, objects, publications, and other choreographies, and runs long-term interdisciplinary research projects. Caprioli's choreography is characterized by precision, complexity, and physical high technology. All her productions challenge the field's normative formats and exchange economies. 2008–2013 Caprioli was professor of choreographic composition at Stockholm University of the Arts. Fall 2021 she was awarded the royal medal Illis quorum meruere labores ("To those whose work make them worthy of it"). In August 2022, her retrospective Once Over Time will be performed at Tanz im August in Berlin.

ccap is a non-profit organization for production and distribution of choreography under the leadership of Cristina Caprioli. ccap works with transdisciplinary art projects and social activities through performances, installations, publications, workshops etc. Since 2010, ccap is based in the working space at Körsbärsvägen in Stockholm, and from March 2019 also in the Hall in Farsta. ccap is funded by Region Stockholm, Swedish Arts Council and The City of Stockholm Cultural Administration.
MYCKET
STRUGGLEOKE and banner workshops (2019–)
STRUGGLEOKE – The Karaoke Bar with Songs that Care maps historical and ongoing civil rights struggles and justice movements, as well as the material traces they leave behind.
The mapping builds an archive of songs, slogans, banners and placards. Movements and slogans such as ¡No pasarán!, School Strike 4 Climate, White Silence is Violence; songs like Laleh's Goliath, Dolly Parton's Nine to Five or Jan Hammarlund's Europa. STRUGGLEOKE is also an actual karaoke bar where songs of resistance are sung, and a shared workshop where banners and pins can be made.
While STRUGGLEOKE visits Accelerator, visitors are invited to participate in the production of new banners in open workshops. The banners will form the basis for two STRUGGLEOKE evenings that will be held featuring specially invited STRUGGLEOKE hosts.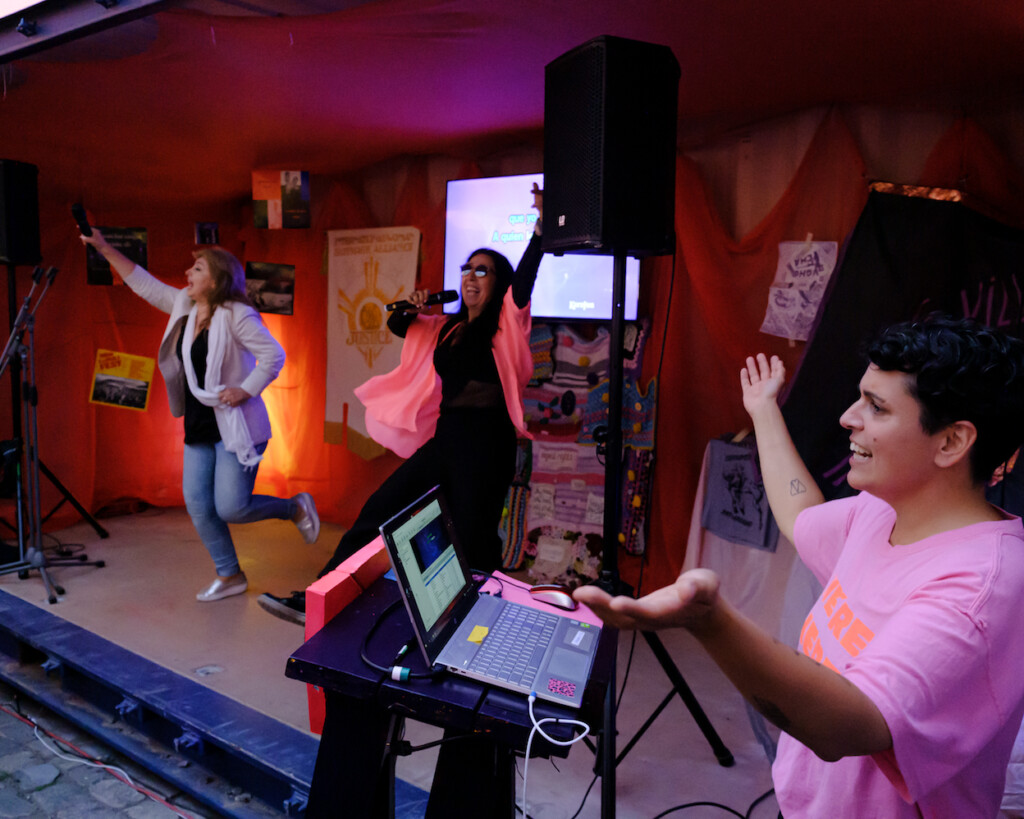 The art, architecture and design group MYCKET was formed in 2012 by Mariana Alves Silva, Katarina Bonnevier and Thérèse Kristiansson. MYCKET tries to work from a set of interacting perspectives; queer, feminism, class, anti-racism, the more-than-human. Their artistic research practice, which often takes place together with others in large networks, has generated a wide range of results; large-scale theatre productions, permanent public spaces, costumes, details, works of art, instruments, exhibitions, animations, performances, text and theory production, education and lectures.
Radioart with Johan Petri and Ivo Nilsson
Red Doc (2023)
A scenic soundplay based on Red Doc> by the Canadian writer Anne Carson, in translation by Mara Lee, with new music by Ivo Nilsson and directed by Johan Petri.
Six actors, five musicians and electro acoustic music create a soundwork where myth, war victims and heartache are woven together. Premiere at Accelerator on 3 February 3 2023.
The performance is produced by Radioart, a theatre for sound art and radio drama. The play is presented live at Accelerator and will be streamed on Radioart's digital platform.
Performance dates: 3–5 February 2023.
Red doc> is produced with the support of Swedish Arts Council.
Johan Petri (b. 1959) is a theatre director, dramaturge and playwright. Petri has developed productions for the Stockholm City Theatre, Unga Klara, the Royal Dramatic Theatre, Stockholm, Swedish Radio Drama and worked with independent groups in Sweden and internationally.
Ivo Nilsson (b. 1966) is a composer and chamber musician educated at the Royal College of Music, Stockholm. He has worked as a soloist in the Swedish Radio Symphony Orchestra and is a former artistic director of Stockholm New Music Festival. In 2017, Ivo Nilsson became a member of the Royal Swedish Academy of Music.
Anne Carson (b. 1950, Toronto, Canada) is an author, poet, translator, critic and professor of classical languages, literature and culture as well as comparative literature. Carson has published more than 20 books and translations. Red Doc> was published in 2013 and translated into Swedish in 2015.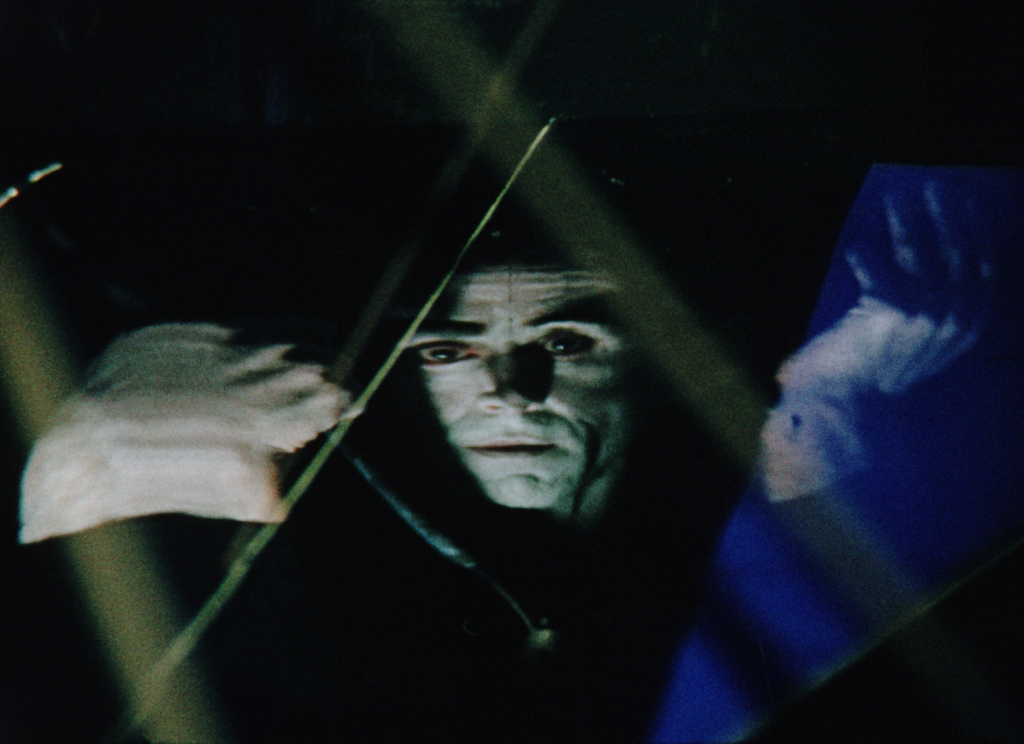 Film programme
The film programme of the exhibition is curated by Richard Julin and Therese Kellner from Accelerator in cooperation with Anna-Karin Larsson and Andreas Bertman from Filmform. The eleven films are shown in chronological order. The total lenght of the programme is 90 minutes.
Peter Weiss (1916–1982)
The Studio of Dr. Faust (1956), colour, 9 mins.
Peter Weiss portrays Faust-Mephisto and his fantastic laboratory. In surrealist images, the film depicts spiritual and existential processes. Inspired by the possibilities of colour film, Weiss experimented with the play of light, colours and prisms of glass.
Staffan Lamm (b. 1937, Stockholm)
Russeltribunalen (1967/2006), b/w, 9.27 mins.
An account of a tribunal protesting against the United States' war in Vietnam. Not allowed to take place in the United Kingdom and France, the tribunal found a safe haven in Sweden and was held at the Folkets Hus in Stockholm in May 1967. The panel included prominent intellectuals such as Jean-Paul Sartre and Simone de Beauvoir. Warning sensitive content: The film contains images that may be perceived as disturbing.
Kjartan Slettemark (1932–2008)
Lektion i konsten att falla (1969), colour, 16 mins.
A record of a performance work in which Kjartan Slettemark walked on a tightrope in the Vita Bergen Park in Stockholm, accompanied by the legendary Swedish progg band Harvester, which changed its name the year after to Träd, Gräs och Stenar.
Ann-Sofi Sidén (b. 1962, Stockholm)
QM at NK (A Queen of Mud Action) (1989), colour, 4.27 mins.
QM visits the NK department store, hoping that a perfume might bring back lost or repressed memories. Scents have an uncanny ability to transport people through time and space. Queen of Mud is a character created and enacted by Sidén in several film works, of which this is the first. QM has made a number of filmed public appearances, and also appears in the installation The QM MUSEUM (2004).
Lova Hamilton (b. 1968, Stockholm)
A Certain Awakening (1999), colour, 5.28 mins.
The artist lies down in public places. The film hints at the presence of military and border guards. There are signs of travel and places outside Sweden in the form of travel passes and onion domes.
Felix Gmelin (b. 1962, Heidelberg, Germany)
Farbtest, Die Rote Fahne II (2002), colour, 12 mins.
Two films, which at first glance may appear identical, are presented side by side. One of the films, however, was shot by Gerd Conradt in Berlin in 1968; the other by Felix Gmelin in Stockholm in 2002. Conradt's film shows students running down the streets of West Berlin holding a red flag. One of the students was the artist's father. Gmelin reenacts the situation with students, many years later.
Peter Geschwind (1966–2021)
Sound Cut (2002), colour, 1 min.
Sound Cut is based on a song by the American punk rock band Dead Kennedys, in which the sound of each individual instrument in the original song has been replaced by everyday sounds and images, recorded in the artist's flat. The rhythm of the punk rock song has been translated into the visual rhythm of the video. "Beats per minute" has become "frames per second".
Klara Lidén (b. 1979, Stockholm)
Bodies of Society (2006), colour, 5.15 mins.
The work shows a person, apparently alone, and an old bicycle, in an empty room in a flat. Applying increasingly intense violence, the person, the artist, employs an iron bar to demolish the bicycle in a ritual that appears to be choreographed; a thought-out chain of events possibly performed on a number of occasions.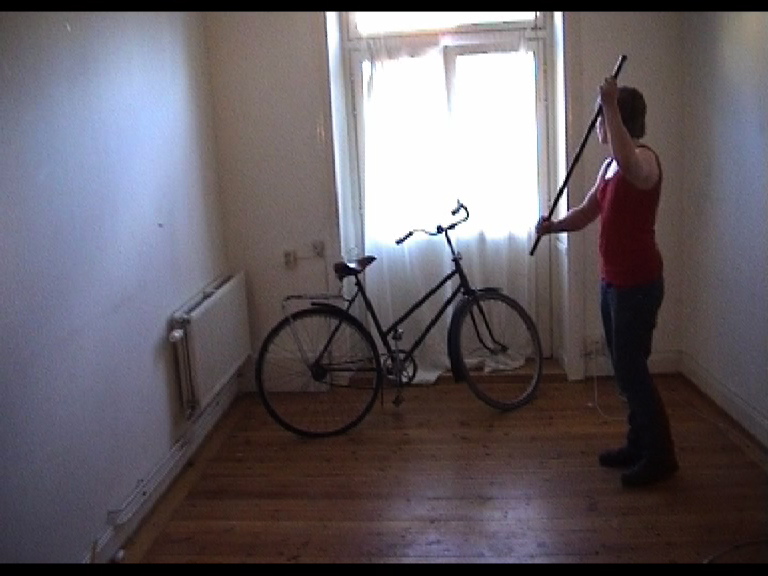 Fia-Stina Sandlund (b. 1973, Stockholm)
ACT 1: An Idealistic Attempt (2007), colour, 12.55 mins.
ACT 1: An Idealistic Attempt is constructed as an interview with the artist. We hear her questioning the extent to which she (and we) are prepared to take risks to protect her/our ideals, while she reflects on a planned action in collaboration with a Danish activist.
Hanna Ljungh (b. 1974, Washington, D.C., USA)
How to Civilize a Waterfall (2010), colour, 3.53 mins.
Human language of power aimed at the power of nature. Wildly shouting and gesticulating, the artist vainly tries to convince a waterfall of the advantages of replacing it with a dam.
Runo Lagomarsino (f. 1977, Lund)
More Delicate Than the Historians Are the Map-Maker's Colours (2012), colour, 6.18 mins.
A video documentation of an action performed in the San Jerónimo Park in Seville, Spain, by the artist and his father. They throw eggs at a giant statue. The eggs are illegally imported from Argentina by the artist on a journey in the opposite direction from Columbus' travels. The sculpture shows the figure of Columbus standing inside an egg.
Dedicated to preservation, promotion and worldwide distribution of Swedish experimental film and video art. Filmform (est. 1950) is the only existing organization of its kind in Sweden and is often engages as an advisor to museums, galleries, universities and festivals. Constantly expanding, the distribution catalogue spans from 1924 to the present, including works by Sweden's most prominent artists and filmmakers.

Filmform is supported by the Ministry of Culture through the Arts Grants Committee and the Swedish Arts Council.
Peter Weiss (1916–1982) was an internationally renowned author and playwright whose work was translated into numerous languages. Weiss was also a visual artist and filmmaker.

Staffan Lamm (b. 1937, Stockholm) is an autodidact who began working with Peter Weiss in the 1960s and who has since produced documentaries, primarily for Swedish Television in addition to working as a film photographer, screenwriter and director.

Kjartan Slettemark (1932–2008) studied art in Oslo in the 1950s and in Stockholm in the first half of the 1960s. He worked with painting, sculpture, performance, film and video. Slettemark participated in a great many political actions and happenings, from 1960 until his death in 2008.

Ann-Sofi Sidén (b. 1962, Stockholm) lives and works in Stockholm. Sidén began her artistic career as a painter and sculptor before turning to performance and moving images. By combining journalism, film and research, her work is frequently presented in the form of sculptural installations and videos. Ann-Sofi Sidén is a former Professor of Fine Art with a focus on sculpture, objects and installation at the Royal Institute of Art in Stockholm.

Lova Hamilton (b. 1968, Stockholm) was educated at the Royal Institute of Art in Stockholm. She works withperformance, moving images, photography and sculpture.

Felix Gmelin (b. 1962, Heidelberg, Germany) lives and works in Stockholm and Sarajevo. Gmelin was educated at the Royal Institute of Art in Stockholm. In his works, he explores historical political movements, radicalism, utopias and contemporary activism. Gmelin is one of few Swedish artists who has twice been invited to participate in the Venice Biennale, in 2007 and in 2003, when he showed Farbtest, Die Rote Fahne II.

Peter Geschwind (1966–2021) lived and worked in Stockholm. Geschwind was educated at Konstfack University of Arts, Crafts and Design and at the Royal Institute of Art in Stockholm. Geschwind was Professor of Fine Art with a focus on sculpture, in 2008–2018, at the Royal Institute of Art, where he served as vice-chancellor in 2016–2017. Geschwind worked primarily with installations often made with recycled materials.

Klara Lidén (b. 1979, Stockholm) first trained as an architect at KTH Royal Institute of Technology in Stockholmbefore continuing at Konstfack University of Arts, Crafts and Design in Stockholm. She works with installation, performance and video.

Fia-Stina Sandlund (b. 1973, Stockholm) studied at Konstfack University of Arts, Crafts and Design in Stockholm and at the Valand Academy of Photography and Film in Gothenburg. She is a visual artist and film director and works withjournalism, social activism and recreated history.

Hanna Ljungh (b. 1974, Washington, D.C., USA) studied at Parsons School of Design in New York and at Konstfack University of Arts, Crafts and Design in Stockholm. She works with installation, sculpture, photography and film, frequently embarking on artistic explorations of materials such as stone, soil, land and mountains.

Runo Lagomarsino (b. 1977, Lund) was educated at Valand Academy in Gothenburg, Art Academy Malmö and at the Whitney Independent Study Program in New York. He works with installation, sculpture, drawing, performance and actions.
jolifanto bambla ô falli bambla
grossiga m'pfa habla horem
égiga goramen
higo bloiko russula huju
hollaka hollala
anlogo bung
blago bung blago bung
bosso fataka
ü üü ü
schampa wulla wussa ólobo
hej tatta gôrem
eschige zunbada
wulubu ssubudu uluwu ssubudu
tumba ba–umf
kusagauma
ba–umf


Hugo Ball, Karawane, 1916
Credits
Exhibition team Accelerator
Richard Julin, Curator for the exhibition and Artistic Director
Therese Kellner, Curator for the exhibition