Welcome to Accelerator
Admission is always free at Accelerator. A space for meetings, discussions and dialogue around art and research.
In connection to each exhibition Accelerator presents a talks programme with public discussions and presentations, where artists, the general public and researchers can meet to reflect on contemporary issues.
Opening hours:
Wednesday – Friday 12.00-18.00
Saturday – Sunday 11.00-16.00
Closed during the summer 20 June – 10 Aug
No pre-booking of visits is required. Accelerator takes precautions for safe visits. Read more under "Information regarding the coronavirus".
"It takes a Village", O in collaboration with The non existent Center
To apply for a meeting with The Community Council (Byalaget in Swedish), leave your application during your visit at Accelerator or use this link.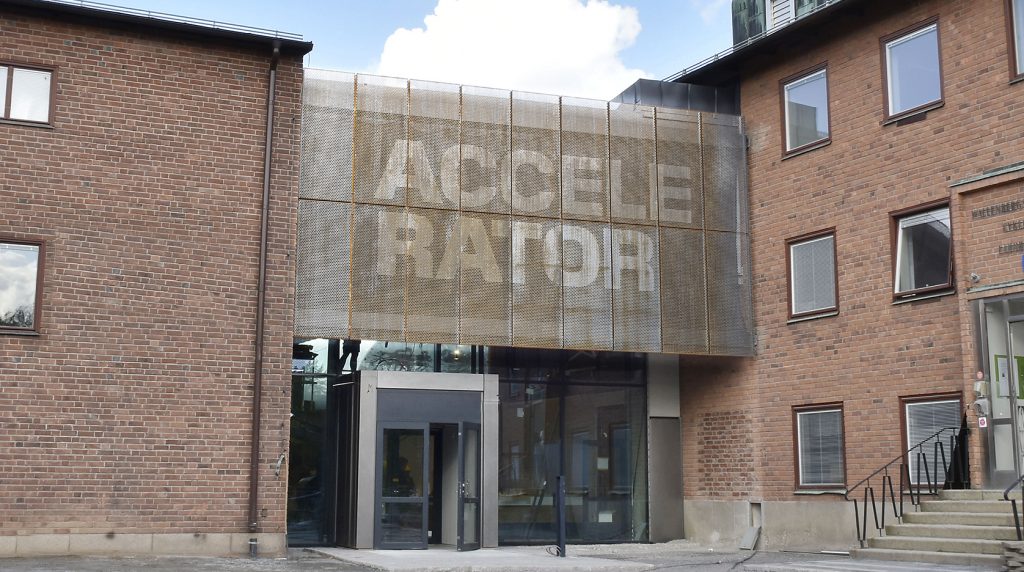 Getting here
Accelerator is located at Frescativägen 26A, on the Stockholm University campus. Take a Walk to Accelerator via one of the walking paths available in Google maps.
The nearest tube station is Universitetet, a one-minute walk from Accelerator. You can also get here by bus 50, 639, 670 and 676 (to Universitetet Södra), bus 540 (to Universitetet Norra) or by the Roslagsbanan train service (to Universitetet).
There are parking spaces available near the venue entrance and also a larger parking lot located behind the venue, entrance via Svante Arrhenius väg.
Information regarding the Coronavirus COVID-19
In order to provide a safe experience for both our visitors and staff, we are taking precautionary measures to reduce the spread of infection. For your safety and to ensure that safety measures are being followed, our staff will be on-site throughout the premises.
Visitor numbers are limited to 40 guests in the café and 30 visitors in the exhibition.
We ask our guests to show consideration by washing their hands, maintaining a respectful distance and following designated signage during queuing.
We have intensified our cleaning routines in order to ensure a hygienic environment. Commonly touched surfaces are cleaned especially frequently. Hand sanitisers are available in key areas throughout the premises.
We respectfully ask that visitors, as we the staff, follow the advice of the Public Health Agency Sweden and stay at home if you have any symptoms.
We only accept card or contactless payments on-site. As always, entry to the exhibition is free.
Our public guided tours are free of charge and until further notice only available digitally. For more information please contact our hosts on accelerator@su.se.
All programme activities are digital only and broadcasted live on Accelerator's Facebook page. Read more under Calendar.
Until further notice, Accelerator is following the decisions and guidelines of the responsible authorities; changes to opening hours and activities may occur if the situation requires it. Information is continuously updated and is subject to change.
Welcome to Accelerator Café
At Accelerator Café, light meals and coffee are served all day. We offer a wide range of food, sandwiches, salads and pastries.
Accelerator café has relaunched and is now managed by the team that also runs Gamla Orangeriet at Bergius Botanic Garden.
Accelerator Café:
Wednesday – Friday 11.00-18.00
Saturday – Sunday 12.00-16.00
For booking requests and orders, contact the café: acceleratorcafe@gamlaorangeriet.se
Contact
Please contact us with any enquiries about visiting and for information about the art and our exhibitions. Our hosts are present in the art space to answer any questions. Talk to them or contact us using the information below, if you have any questions about our programme of events, or comments and suggestions concerning Accelerator.
Email: accelerator@su.se
Phone: (+46) 0766 962 023. Phone hours during Accelerator's opening hours.
Visitor address: Frescativägen 26A, Stockholm
Postal address
Accelerator
Stockholm University
SE-106 91 Stockholm
Delivery address
Accelerator
Frescativägen 24A
SE-114 18 Stockholm

Guided tours and group visits
Please contact us via email at accelerator@su.se before your visit with a larger group to ensure availability. Visitor numbers are limited in the café and in the exhibition.
Book guided tours online via Zoom or at Accelerator for groups up to 7 people. For booking of online guided tours contact us via email at accelerator@su.se .
You can also combine your visit with lunch or dinner at Accelerator Café. We look forward to hearing from you!
Price list for guided group visits and tours:
School tour via Zoom: 500 SEK
School tour at Accelerator: 800 SEK
Booked tour at Accelerator: 1700 SEK
Booked tour via Zoom: 1500 SEK
Booked tour SU-groups at Accelerator and Zoom: 800 SEK

General visitor information
Lockers are available on the entrance level. There are toilets on every floor.

Access
Our entrance is at street level and all levels are lift-accessible. If you have any concerns or comments regarding your visit, please contact us at accelerator@su.se. Welcome!