Cristina Caprioli/ccap: SILVER
Swedish premiere for a new work by Cristina Caprioli/ccap. SILVER is ongoing non-stop during Accelerator's opening hours. Thursday–Sunday between 14.00–16.00 and Wednesday 18.00–20.00 the installation will be inhabited by dancers performing choreographies from the ccap repertoire. Admission free. No advance booking required.
One hundred silver coats lay scattered over the floor, upon the walls and into the air
Sometimes they are inhabited by people, or children who don't know whether to cry or play
For the most part, the coats remain empty, as if they were shells or other homeless things
Or they start dancing and demand all the attention
In a landscape that constantly shifts its horizon
SILVER is a chain of 'images'/'scenes' that shift one to the next every 10 minutes. More than the 'image' itself, it is the shift between that defines the image and turns it into a movement. Once in a while, SILVER is visited by dances from some time ago. Or dare a new direction. Regardless, another kind of diversity emerges, where every minimal difference is courted and affirmed.
The visitor puts on a silver coat and follows the shells with their eyes
Or gets into the game and constructs a ladder
Stays for a just a moment or a whole day
Talking quietly and listening to the dance
– Cristina Caprioli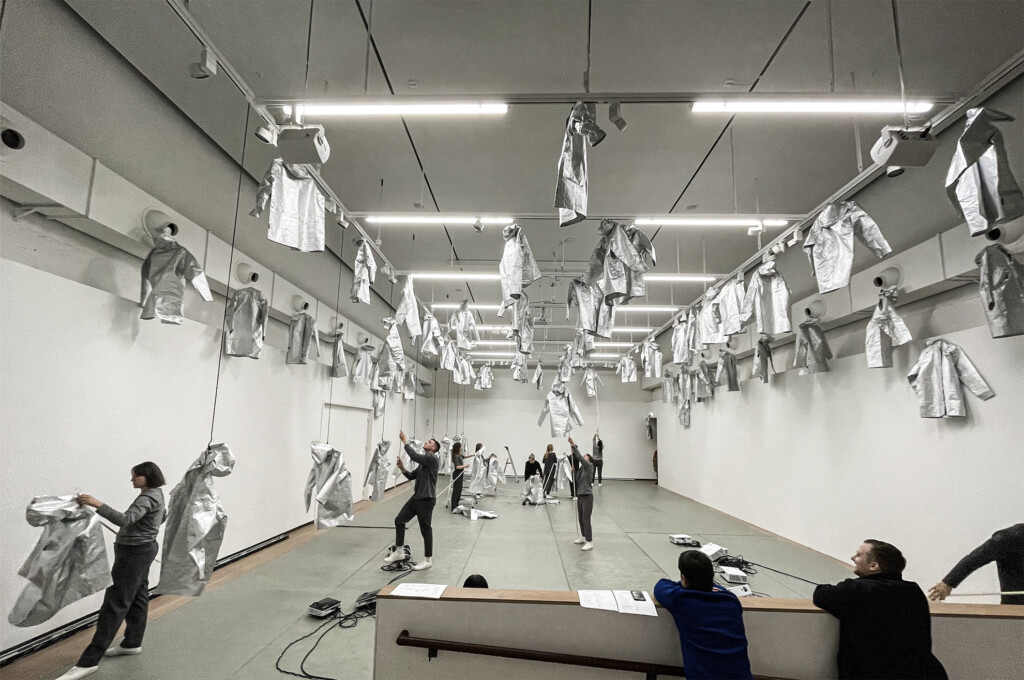 About Cristina Caprioli/ccap
Cristina Caprioli (b. 1953) lives and works in Stockholm as a dancer and choreographer. In the mid-1990s, Caprioli founded CCAP, an independent organisation for the sustainment of choreography. In 2008–2013, she was Professor of Choreographic Composition at the University of Dance and Circus in Stockholm. In 2021, she was awarded the Royal Gold Medal Illis quorum meruere labores. In 2022, in addition to her participation at Accelerator, Caprioli will present her retrospective Once Over Time at Tanz im August in Berlin and Petrolio2 at Dansens hus in Stockholm.
Credits
Choreography Cristina Caprioli with the performers Rebecka Berchtold, Karin Bergman, Jim De Block, Molly Engblom, Annika Hyvärinen, Oskar Landström, pavleheidler, Sigrid Sjöholm, Kristiina Viiala, Miranda Wallmon, plus Louise Dahl (December 3 and 4) and Hana Erdman (December 6 – 11).
Lights and technique Ali Hazara, Thomas Zamolo.
ccap team Anna Grip, Masha Taavoniku, Anne Vigeland.
ccap 2022 production with the support of the Swedish Arts Council and The City Council of Stockholm.
Music
Asher Tuil the depths, the colors, the objects and the silence, tracks: partly framed in sunlight, the blue gently linked, plastic dusk
Asher Tuil affordances, tracks: i, ii, iii
Clouds from the internet (from 2alike 2018).
Ghostships film and photo Cristina Caprioli, edit Madeleine Lindh (from the here here project 2013).
Closure film Mateusz Herczka (2001), now to music by Jean-Philip Rameau, Castor et Pollux, RCT 32, Acte I, Scène III: Prélude – Air accompagné 'Tristes apprets', recorded by The Sound of Light, MusicAeterna Orchestra & Choir, conductor Teodor Currentzis, sopran Nadine Koutcher