Overburden
26 Oct 2019 – 15 Dec 2019
Cyprien Gaillard's exhibition at Accelerator is the first presentation in Sweden by the French artist. The exhibition Overburden features Gaillard's most recent works of which two relate to Swedish cultural history and were created especially for the exhibition at Accelerator.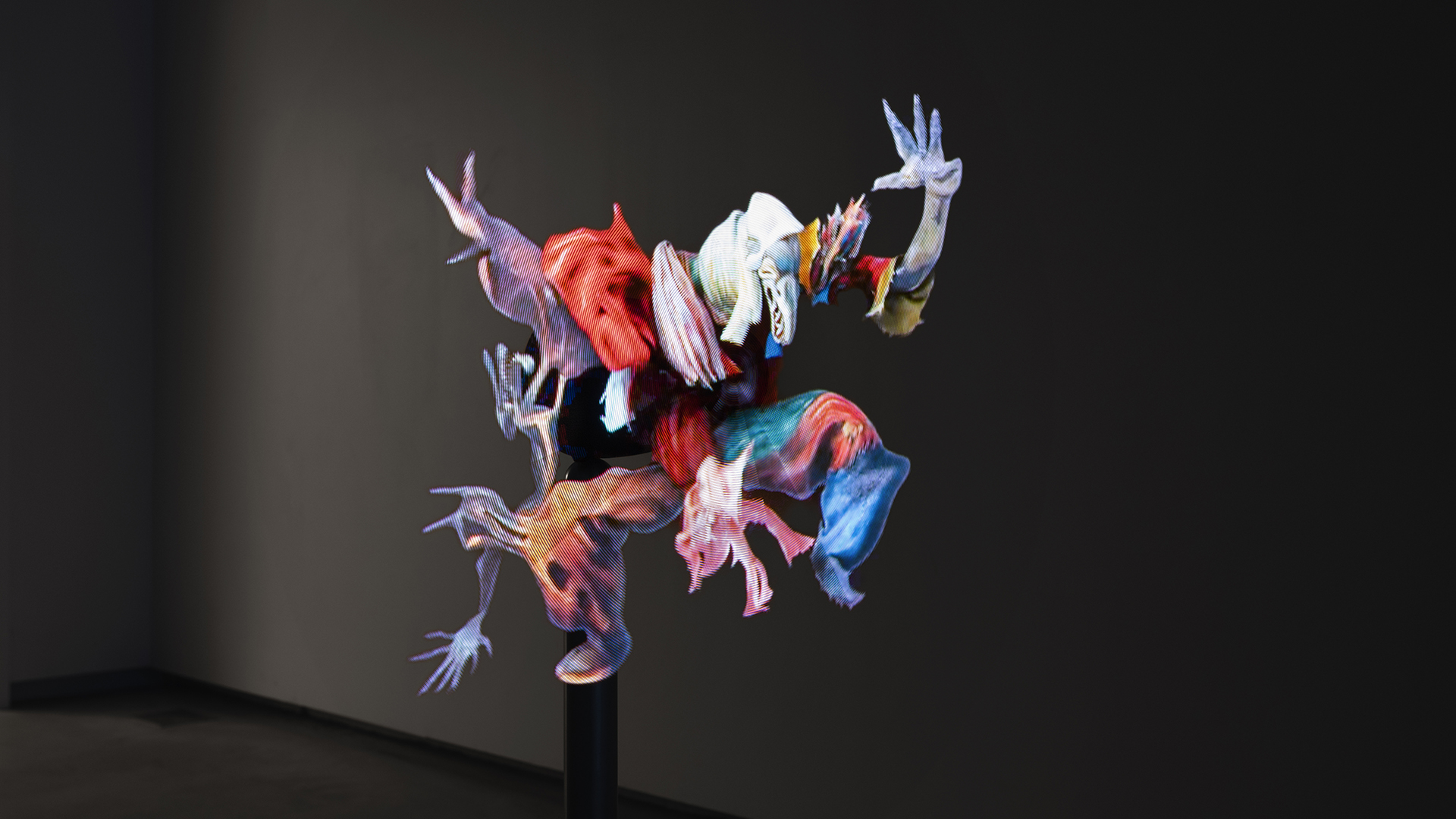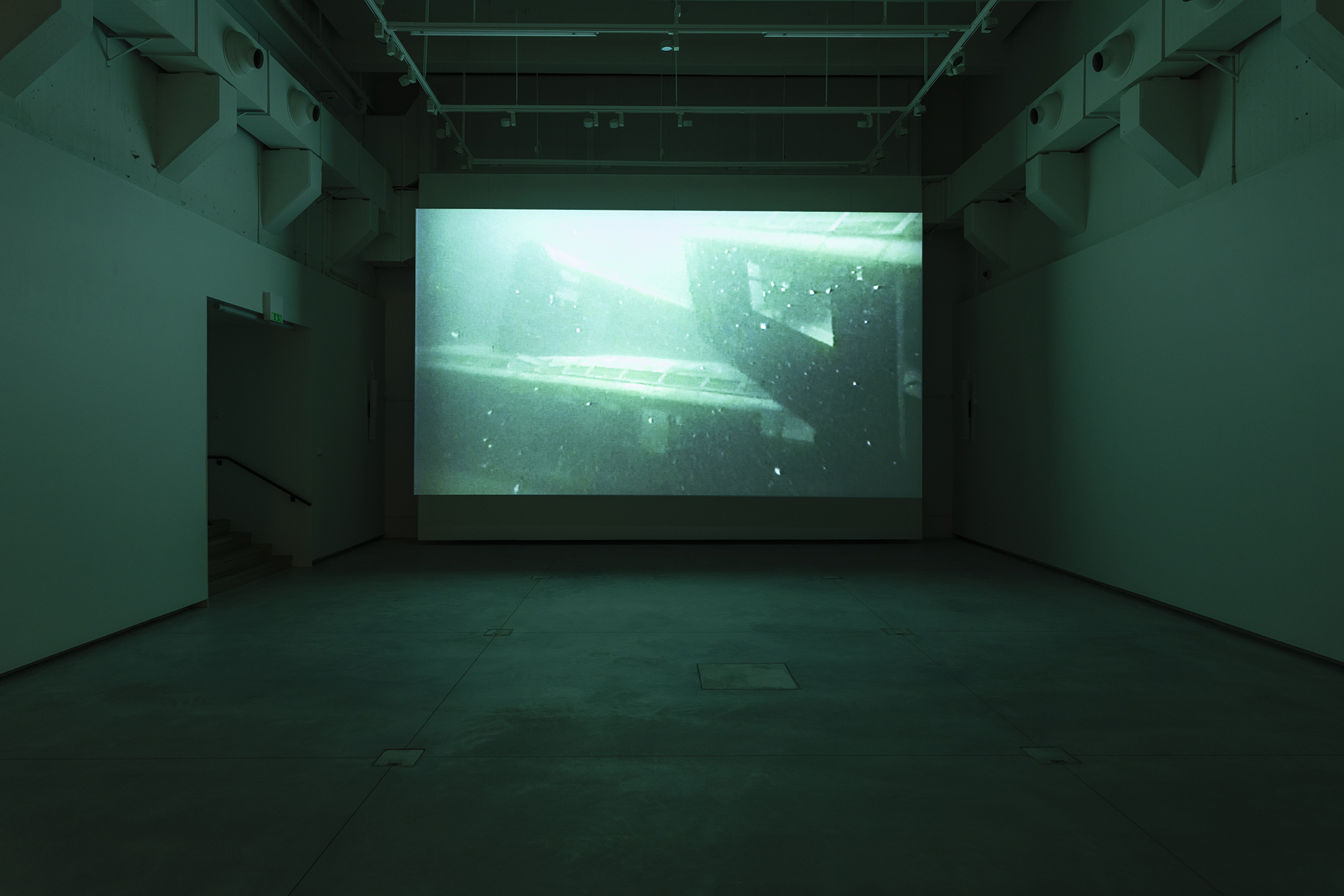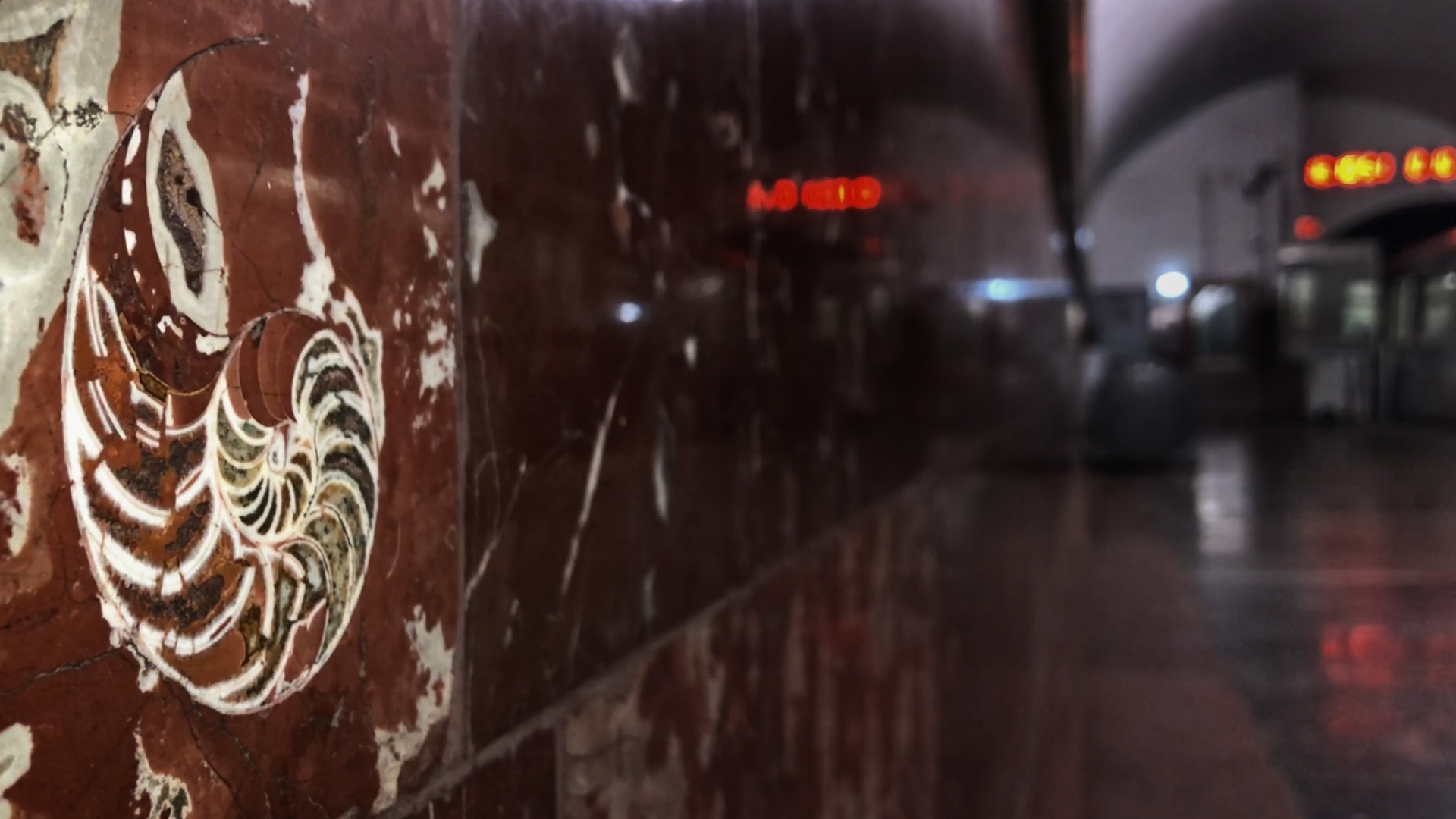 About the exhibition
In his practice, Cyprien Gaillard presents a world that is interconnected in its historic, geographical and biological relationships. It is a world founded on an unceasing migratory movement of humans and other species, building relationships to new places and new life forms. This world view disregards boundaries and opposes nationalist narratives. It also contradicts the modern concept of progress based on separation and categorisation, where nature and culture, history and the present are seen as opposites. Gaillard addresses these concepts in works where time and its historiography are not linear but cyclical. Elements of decay, renewal and reconstruction form a cycle, where remnants from beyond the human era are brought together with current realities in the Anthropocene.
The exhibition title Overburden can be understood in several ways. It means excessive burden or load but is also a concept used in mining, archaeology and particle physics. In mining and archaeology, it describes the soil or material that lies above a geological feature possible for economical exploitation or an archaeological site. In particle physics, the overburden of an underground laboratory functions to shield the facility from cosmic radiation.
Works in the exhibition

Woodland Cemetery fixture (Rescued and restored), 2019
The first work visitors will encounter in Accelerator's underground spaces is a light fixture from the Monument hall of the Woodland Cemetery's Crematorium in Stockholm. The architect Gunnar Asplund worked on the cemetery for 25 years before its inauguration in 1940. This light fixture was recently stolen from the Woodland Crematorium but was found by the police severely damaged when it was on its way to a scrapyard and returned to the Cemeteries Administration. After learning about this story Gaillard suggested to restore and exhibit the lamp – inverting its original position above ground to Accelerator's subterranean space.
When Asplund designed the fixture in 1939, it was lit with gas. The flame was intended as a ceremonial light, bringing the entrance area's sculpture group, Resurrection (1928-1941) by John Lundqvist to life. It portrays six bodies rising from the underworld towards the light and a new life. Gaillard has replaced the light source in Asplund's fixture with a sodium vapor lamp that fills the space with a specific monochromatic amber light that unifies the space.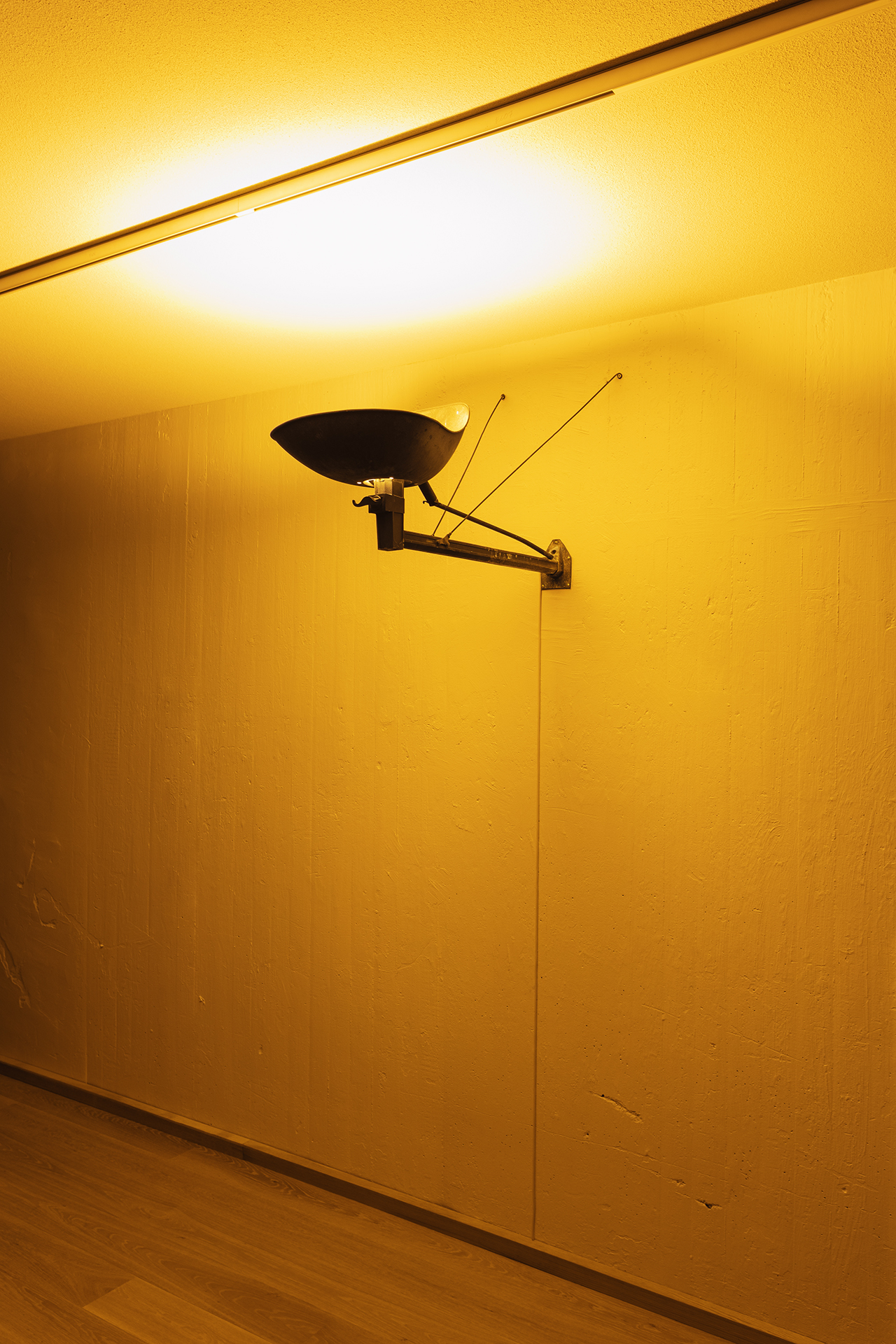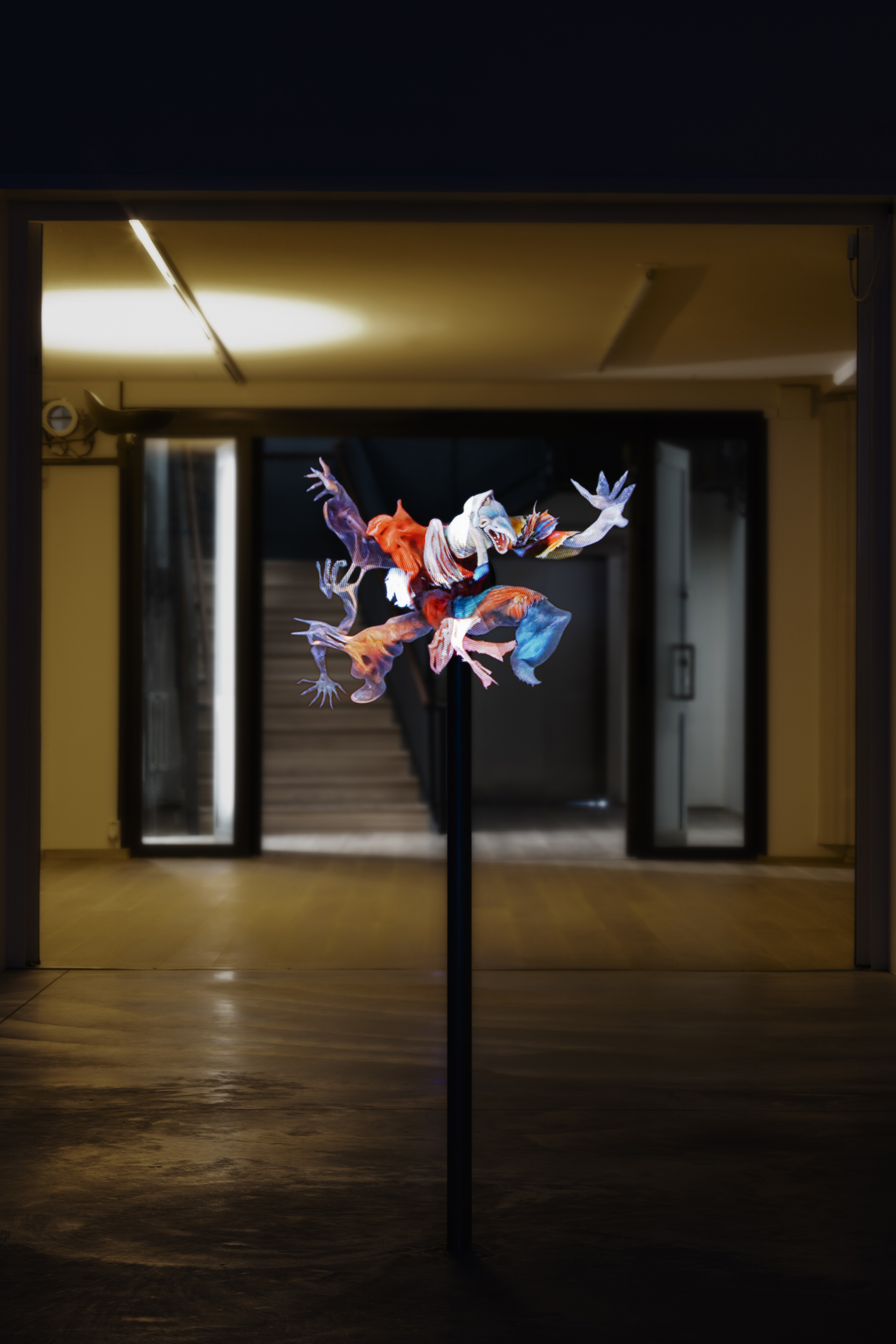 L'Ange du foyer (Vierte Fassung), 2019
Gaillard's holographic sculpture L'Ange du foyer (Vierte Fassung) is based on the figure in Max Ernst's painting L'Angedu foyer from 1937. Ernst saw this figure as an ominous warning against the rise of fascism in Europe; he painted it during the Republicans' fight against General Franco in the Spanish Civil War. In Gaillard's work, Ernst's angel is transformed into a digital animation that turns itself inside out. Caught in the blades of an LED fan, this surrealist apparition testifies to Gaillard's preoccupation with the capacities of destruction within us.
Overburden (Sjöguden/Kungsträdgården), 2019
Gaillard took this double exposure polaroid in Stockholm while working on the exhibition for Accelerator. It shows the sculpture "The Sea God" made in red granite by the Swedish sculptor Carl Milles in 1913 (placed at Skeppsbron in Gamla stan) overlaid with a view of the platform of Kungsträdgården subway station that opened in 1977.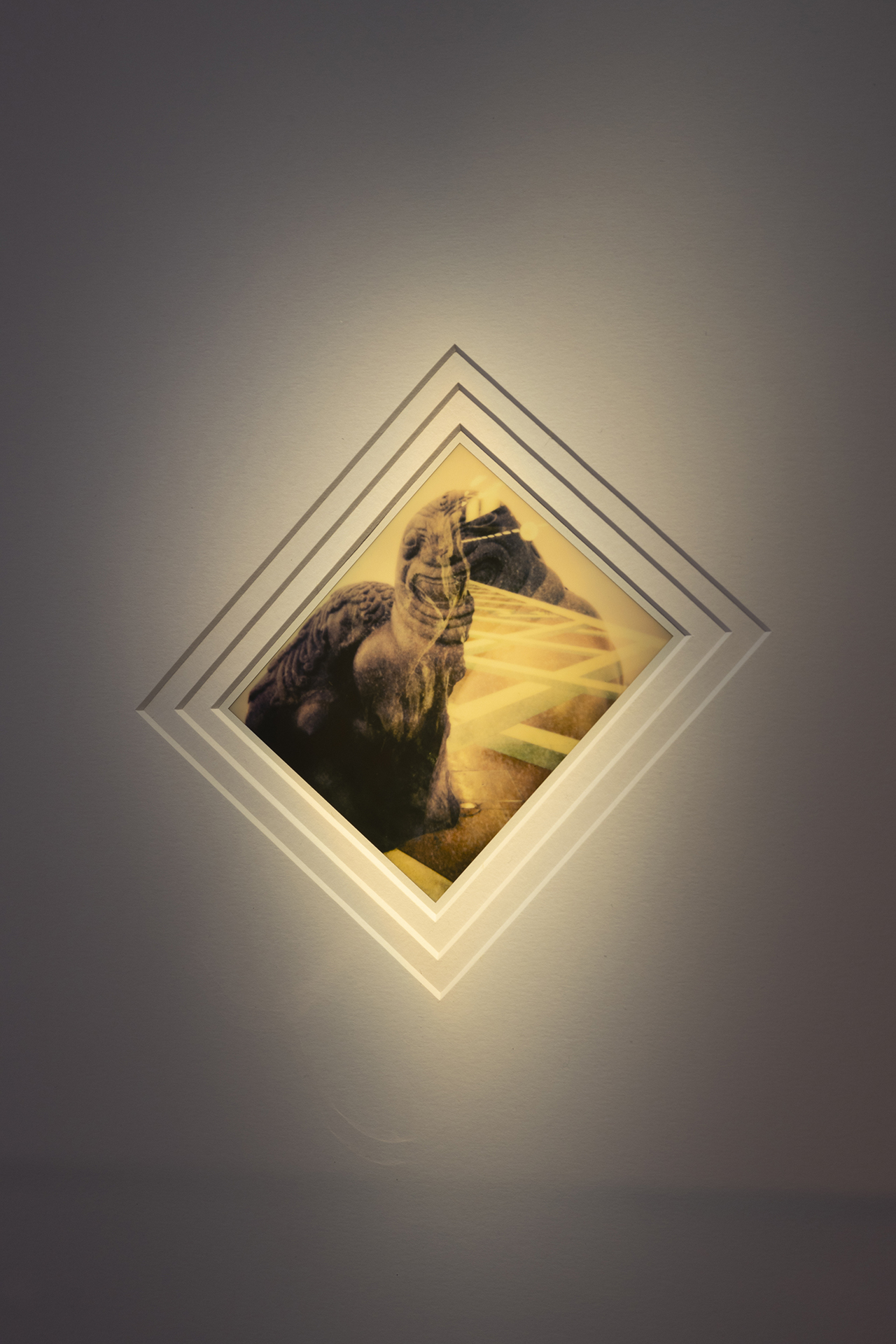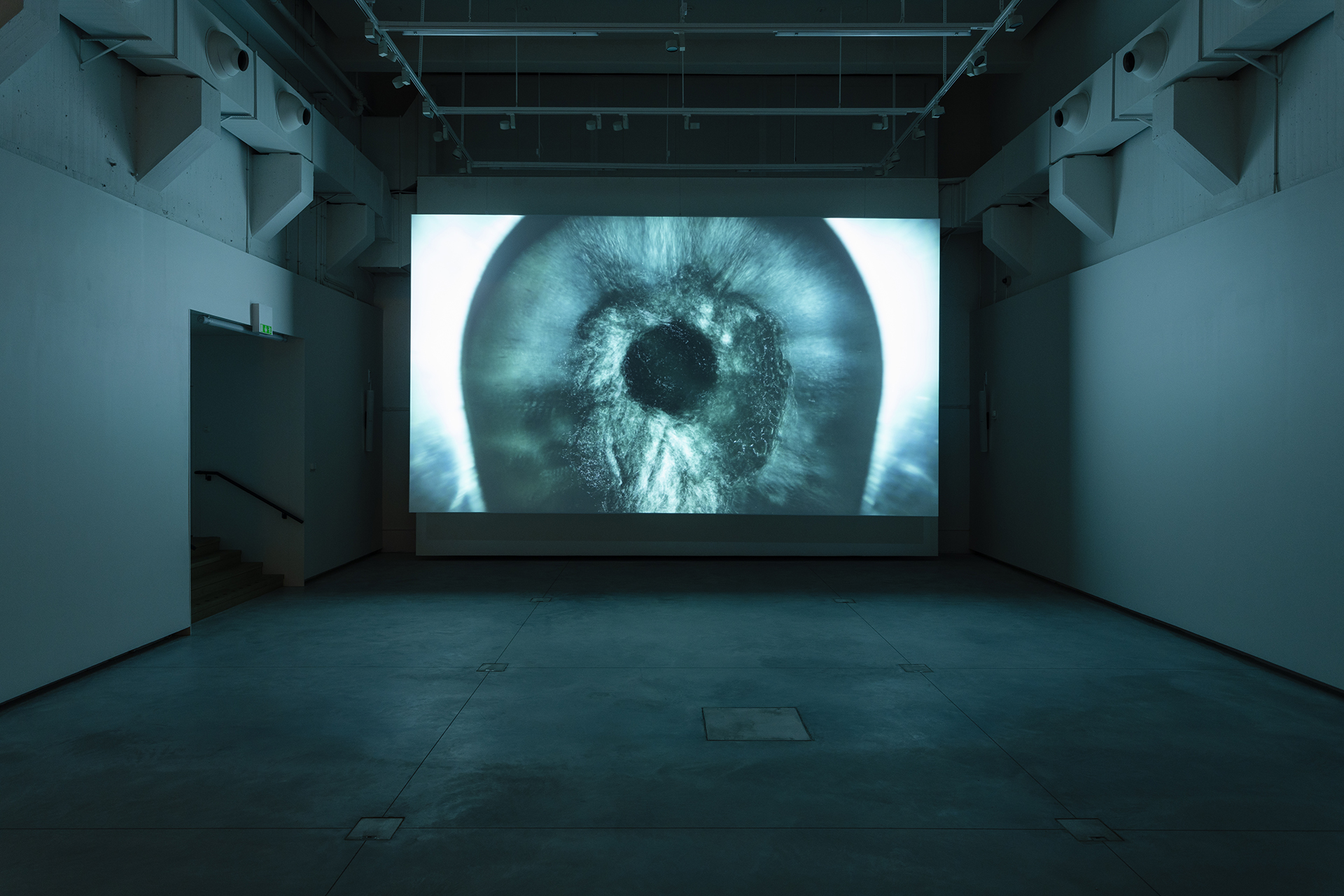 Ocean II Ocean, 2019
When Gaillard visited Accelerator in spring 2019, he was in the last stages of completing the film Ocean II Ocean, which he had been working on for years. The film takes viewers on a pulsating journey from metro stations in Moscow, St Petersburg, Kiev, Bucharest, Tbilisi and Berlin to the sea bed off the east coast of America. In this work different temporalities are at play. Fossilised matter in Moscow's subway, fixated still in marble for approximately 150 million years are captured with reflections of the flickering light from the speeding trains. These images are intertwined with found footage of New York subway cars being dumped at sea. Between 2001-2010, 2500 decommissioned subway cars from the Metropolitan Transport Authorities were sunk in the Atlantic Ocean to become artificial reefs. In their underwater graves, sharks, manta rays and other sea creatures will inhabit them until these manmade structures will become another layer of sediment.
Following the rising water level in a toilet flush, the journey goes on above ground to the sound of a steel drum orchestra. These instruments originated in Trinidad and Tobago and were traditionally fabricated from discarded oil barrels. Their unique sound is here by Gaillard given an intense alarm-like ringing as a possible echo of the loss of the fossil fuel it once contained.
About Cyprien Gaillard
Cyprien Gaillard (b. 1980 in Paris, France) is based in Berlin and New York. He has had solo exhibitions at MoMA PS1, Hammer Museum (US) Kunsthalle Basel (CH), and Tate Modern (UK), among others. In 2010, he was awarded the prestigious Marchel Duchamp Prize, followed by a major solo show at the Centre Georges Pompidou (FR). Two of the works featured at Accelerator are simultaneously shown at the concurrent 58th Venice Biennale.

Cyprien Gaillard "L'Ange du foyer (Vierte Fassung)", 2019. Installation view from Accelerator 2019. Photo: Christian Saltas.

Cyprien Gaillard "Woodland cemetery fixture (Rescued and restored)", 2019. Installation view from Accelerator 2019. Photo Christian Saltas.

Cyprien Gaillard "Overburden (Sjöguden/ Kungsträdgården)", 2019. Installation view from Accelerator 2019. Photo: Christian Saltas.

Cyprien Gaillard "Ocean II Ocean", 2019. Installation view from Accelerator 2019. Photo: Christian Saltas.

Cyprien Gaillard "Ocean II Ocean" , 2019. Still from video.
Credits
Cyprien Gaillard, Artist

Exhibition team Accelerator
Richard Julin, Curator
Therese Kellner, Curator
Tove Nilson, Communications Manager
Erik Wijkström, Exhibition Technician
Studio Cyprien Gaillard
Max Paul
Access
The exhibition is accessible for visitors with disabilities. If you have special needs please contact us prior to you visit.
See all events at Accelerator