Finissage: Performance Lecture with Hanni Kamaly 
A performance lecture with Hanni Kamaly closes the exhibition THIS LAND 4 ALL. This performance belongs to a larger body of work where Kamaly investigates connections between racial biological ideas and the exercise of authority. 
A screening of the film PASSAGAINST (2021) is followed by a performance lecture where the artist gives her perspectives on the nationalist and racial biology aspects of border control and the exercise of power, and its consequences for individuals. 
Sunday 19 June, 15:00.
Language: English.
No pre-booking required. Free admission.
Read more about the exhibition THIS LAND 4 ALL
In collaboration with the performance festival Revolve Performance Art Days at Uppsala Art Museum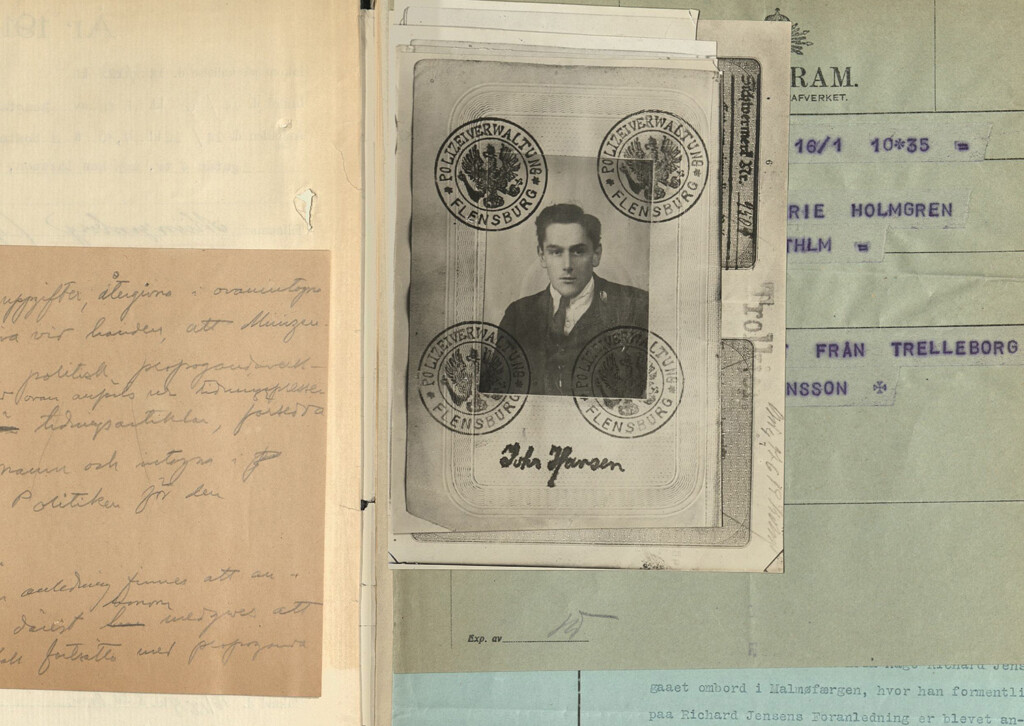 About the film
Hanni Kamaly's video work, PASSAGAINST (2021), is based on a series of articles published in 1921, titled Pass-skandalerna (the Passport Scandals) by the journalist Otto Grimslund. The articles deal with discrepancies between the deportation and arrest of German fascists and political activists who sought refuge or asylum in Sweden in the interwar period.
In the film, as in the exhibition at Accelerator, Kamaly discusses how the administration of people coming to Sweden contains a core of politics, nationalism and ideology. The film PASSAGAINST is not part of the exhibition THIS LAND 4 ALL, it has previous been shown at Göteborgs konsthall in the exhibition With New Eyes – The Interwar Period Seen Through a Lens (2021–2022). 
About the artist
Hanni Kamaly works primarily with video, sculpture and performance. Through in-depth research into archives and collections, the artist follows traces of bodies that have been denied their names and agency throughout history. Fragments from various forms of dehumanisation within visual culture, ethnography and institutions of power are interwoven in the works, exposing patriarchal, colonial, racist and nationalist structures that extend into the present. Kamaly's artistic production brings fragility to a critique of assumed structural power relations.
Hanni Kamaly is a visual artist based in Stockholm. Kamaly received an MFA from Malmö Academy of Art and has also studied at Bergen Academy of Arts and the International Art Academy of Palestine. 
Kamaly's work has been exhibited in numerous institutions and spaces including KINDL, Berlin (2022), Göteborgs konsthall (2021–2022), Mint, Stockholm (2021), Index, Stockholm (2021), Oslo kunstforening (2021–2021), Moderna museet in Stockholm (2018–2019) and Malmö (2020), coyote, Stockholm (2020), Interkulturelt Museum, Oslo (2019–2020), Lunds Konsthall (2019), Ginerva Gambino, Cologne (2019), Tegel, Stockholm (2019), Malmö Art Museum (2017–2018), Skånes konstförening, Malmö (2017), Almanac, London (2017), Rupert, Vilnius (2016). Kamaly has also participated in the Luleå Biennial (2018–2019) and the 34th Bienal de São Paulo in 2021, and is one of the artists invited to the Sharjah Biennial, UAE in 2023.