When the doors to the Accelerator art space are opened for the first time, the public will encounter a venue that is completely empty of objects but filled with art. The artist Tino Sehgal's work This progress is generated in the encounter between the visitors and the participants who are present in the exhibition spaces.
About This progress
Tino Sehgal's artistic practice focuses on sustainability and challenges the need for material resources to create art. His work is completely immaterial, consisting of the conversations and encounters that arise between visitors and participants.
Impressions, feelings and memories are all that his works leave behind. This progress, which is now shown for the first time in Sweden, has previously been featured at other venues, including the Guggenheim Museum in New York and Palais de Tokyo in Paris. Each time the work is presented, it relates to a new place, a new time, new "players", and, more importantly, new visitors. The presentation at Accelerator springs partly from the University context, since several of the participants are researchers at Stockholm University.
About Tino Sehgal
The artist Tino Sehgal (b. 1976 in London, UK) is of German-Indian descent and lives and works in Berlin. Basing his practice on studies in political economy and dance, Tino Sehgal has worked for two decades on developing an alternative model for art production. Sehgal describes his art as "constructed situations", and uses social behaviours and actions as materials, creating immersive works that are sensed rather than seen.
In 2013 Tino Sehgal was awarded with the Venice Biennale Golden Lion, and he represented Germany at Manifesta 4 and at the 51st Venicebiennale. His work has been subject to several solo exhibitions: Magasin III Museum & Foundation for Contemporary Art (SE), Officine Grandi Riparazioni (IT), Stedelijk Museum (NL), Martin-Gropius-Bau (DE), Fondation Beyeler (CH), Jemaa el-Fna, (MA), Palais de Tokyo (FR), Tate Modern (UK), Solomon R. Guggenheim Museum (US), Kunsthaus Bregenz (AT), The Pinacoteca do Estado de São Paulo (BR) and Ullens Center for Contemporary Art (CN) among others.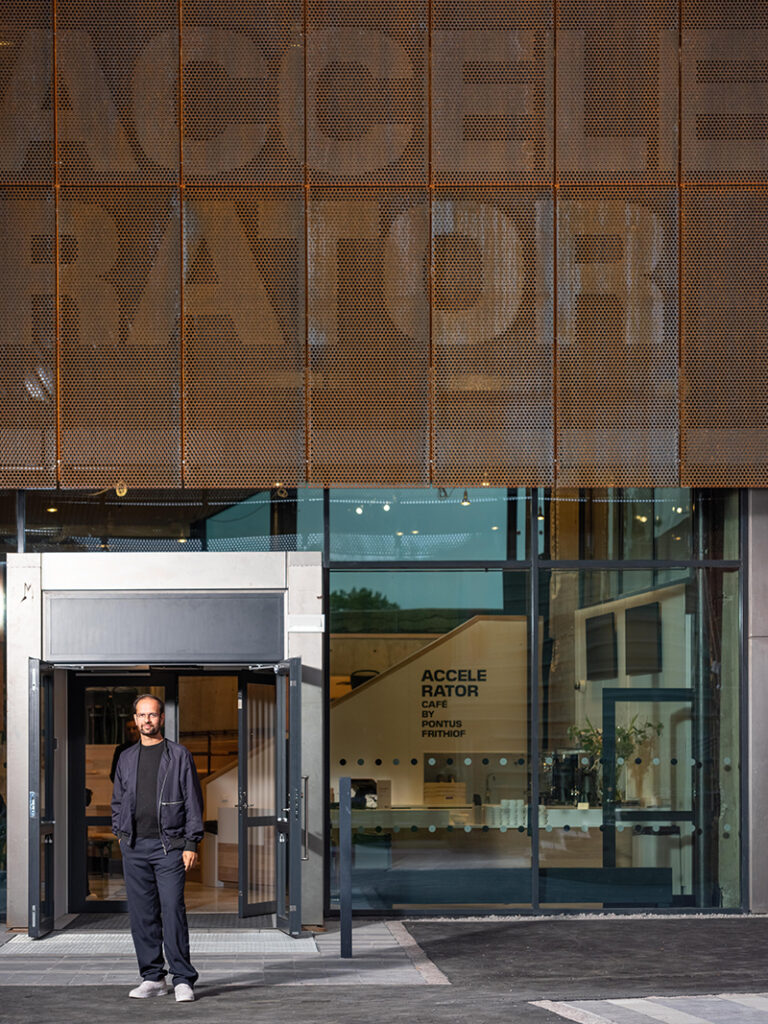 Credits
Tino Sehgal, artist

Exhibition team Accelerator
Richard Julin, Curator
Therese Kellner, Production manager
Tove Nilson, Communications Manager
Erik Wijkström, Exhibition Technician
Production Management Tino Sehgal
Louise Höjer
Descha Daemgen
Production
Josefina Björk, Child Manager
Karl Lydahl, Child Manager
Karl-Erik "Birt" Berglund, Facilitator
Interpreters
Sayeed Ajmalsaddat
Monica Axelsson
Matilda Baraibar
Daniel Berg
Siri Borbély
Shaon Chakraborty
Sharrat Cherry
Margaret Cugler Halling
Marianne Esping Höjer
Sally Fogelberg Lindberg
Moa Forsström Stenskog
Valeria Gandich
Beata Genfeldt
Eliza Goomaral Sharavjamts
Jasper Ha Rajnal
Moa Hammarbäck
Tuva Huss
Alma Huss
Elisabet Idermark
Ulrika Jangblad Julin
Tommy Jensen
Gunn Johansson
Ulla Josephson
Eline Joyce
Roza Kasirga
Henrik Lagerlund
Inger Lindberg
Johan Lindquist
Maud Livén
Eva Lundquist-Munro
Elisabeth Mansén
Rehina von Matérn
Tanishka Midya
Olof Neppelberg
Christer Norström
Lars Nyberg
Ninni Nylén
Kajsa Orhrlander
Anna Petronella Foultier
Enkhsudar Rashoni
Erland Sahlée
Pixie Sköld
Ann-Charlotte Smedler
Klara Svejgaard
Molly Söderblom
Lisa Tang
Alva Thorsson
Nelly Vainikainen
Annika Wickman
Katarina Winter
Lee Zimm Lundberg
Jacob Östberg
Plan your visit
Please note the exhibition has limited capacity so there might be a queue to enter. Large groups may be divided into smaller groups and are advised to allow more time for their visit. Please note the are no guided tours of the exhibition This progress.
The exhibition is accessible for visitors with disabilities. If you have special needs please contact us prior to you visit.
Baby strollers are not allowed in the exhibition due to fire safety.
More events at Accelerator