So Much I Want To Say
19 Feb 2022 – 19 Jun 2022
In the spring of 2022, Mona Hatoum's work was presented concurrently in two Stockholm institutions: Accelerator at Stockholm University and Magasin III Museum for Contemporary Art in Frihamnen. Since the early 1990s, Mona Hatoum has been regarded as one of the most significant artists of our time. Working in the areas of installation, sculpture, performance, photography and video, she has consistently explored issues of the familiar and strange, home and exile, memory and loss. The exhibition was open 19 February–19 June, 2022.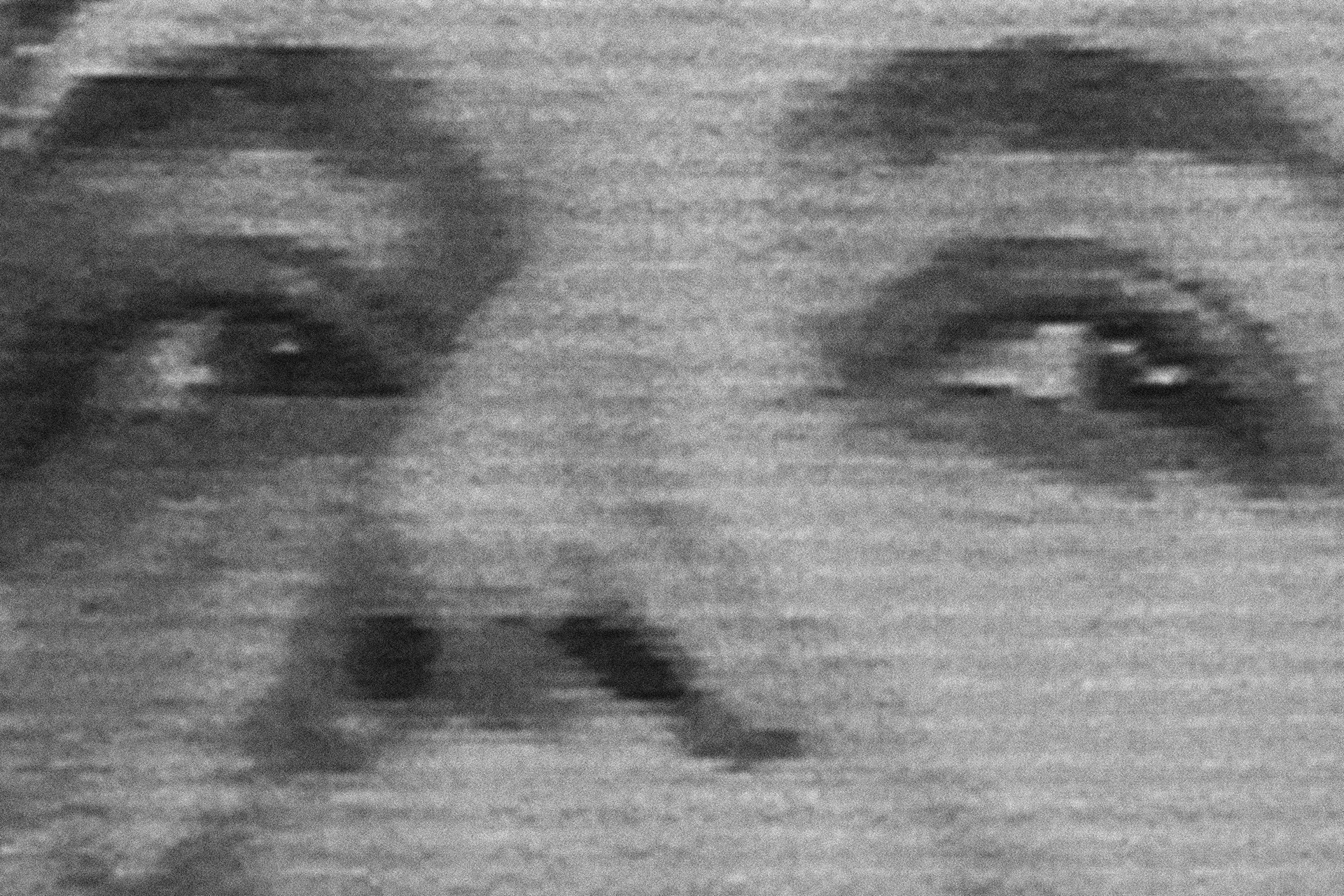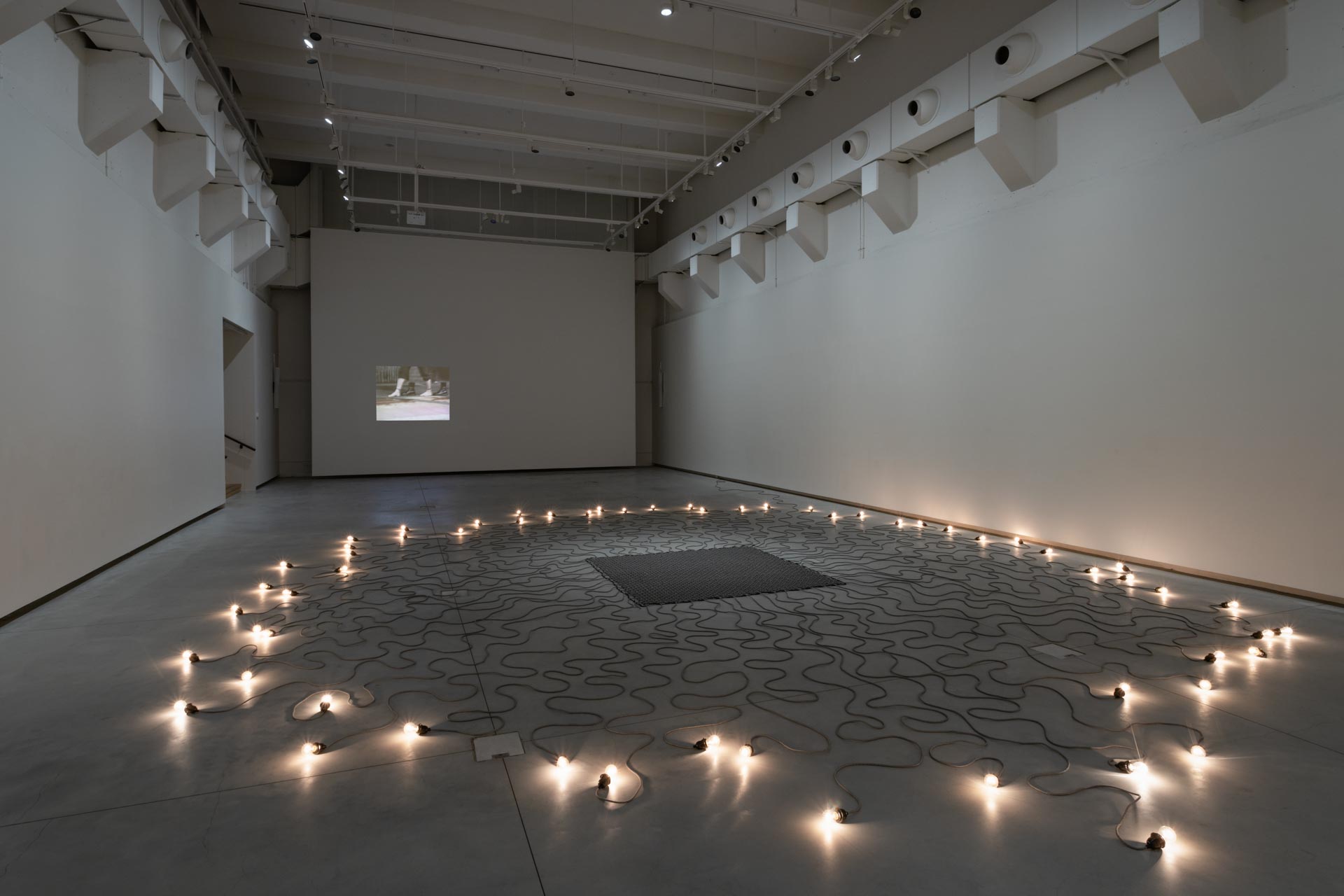 About the exhibition
Individual. Family. Home. Conflict. Displacement. Dislocation. Alienation. Mona Hatoum's artistic practice focuses on concepts that are constantly being revised and are always engaging. Employing a concentrated idiom in a career spanning over 40 years, her art has transitioned from performance to large-scale sculpture and installation.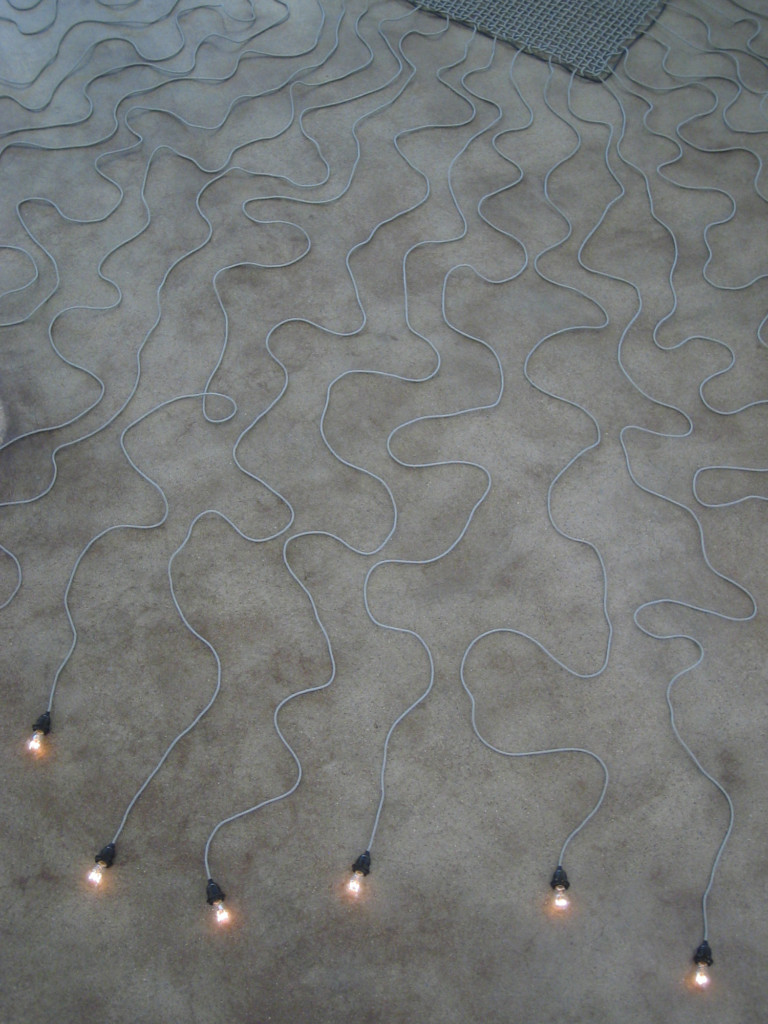 I first met Hatoum on a studio visit during her Swedish Arts Grants Committee IASPIS residency in Stockholm in 2001. We embarked on a conversation about organising a major presentation of her work at Magasin III where I worked at the time. The exhibition was held in 2004 in collaboration with two German museums.
Some of the works included in the exhibition So Much I Want To Say at Accelerator were produced in the early part of Hatoum's career, in the mid-1980s, and others were conceived in conjunction with the above mentioned exhibition at Magasin III. Thus the works presented in the Accelerator exhibition span these 20 years. During this time, Hatoum's practice has changed, particularly in relation to the techniques she works with, but is still nevertheless characterised by a consistent, restrained expression and a frequent undertone of conflict or unrest.
Working largely immaterially, with performance and the moving image, Hatoum's early works were explicitly political and influenced by her life story and dislocated existence. Although the political dimension continues to play a role in her art, the installation and sculptural works have acquired a more ambiguous and indirect strategy where concepts and ideas are articulated through the formal and material reality of her objects and environments.
Works in the Exhibition
In Accelerator's exhibition So Much I Want to Say, the installation Undercurrent (2004) takes centre stage. This work was created in Stockholm in 2004 specifically for Mona Hatoum's solo exhibition at Magasin III. Alongside this expansive installation, a video documentation of a street performance Roadworks, 1985, and a video work entitled So much I want to say, 1983, will be presented. The videos give a glimpse of the early performance and video work the artist was engaged in during the 1980s. The exhibition runs from 19 February to 19 June 2022.
Additional works by Mona Hatoum, including a newly produced piece, are on display in Mona Hatoum – Revisit at Magasin III, February 19–October 15.
Undercurrent, 2004
Hatoum has always been interested in invisible forces like the magnetism or electricity that animates all objects. They could be seen as metaphors for hostility, conflict and social unrest, undercurrents that constantly surround us, as individuals and society as a whole. Undercurrents of things that are unexpressed, invisible tensions, conflicts, disagreements and systematic actions were some of the themes that Hatoum wanted to explore and which provided the focus around which the work was centred.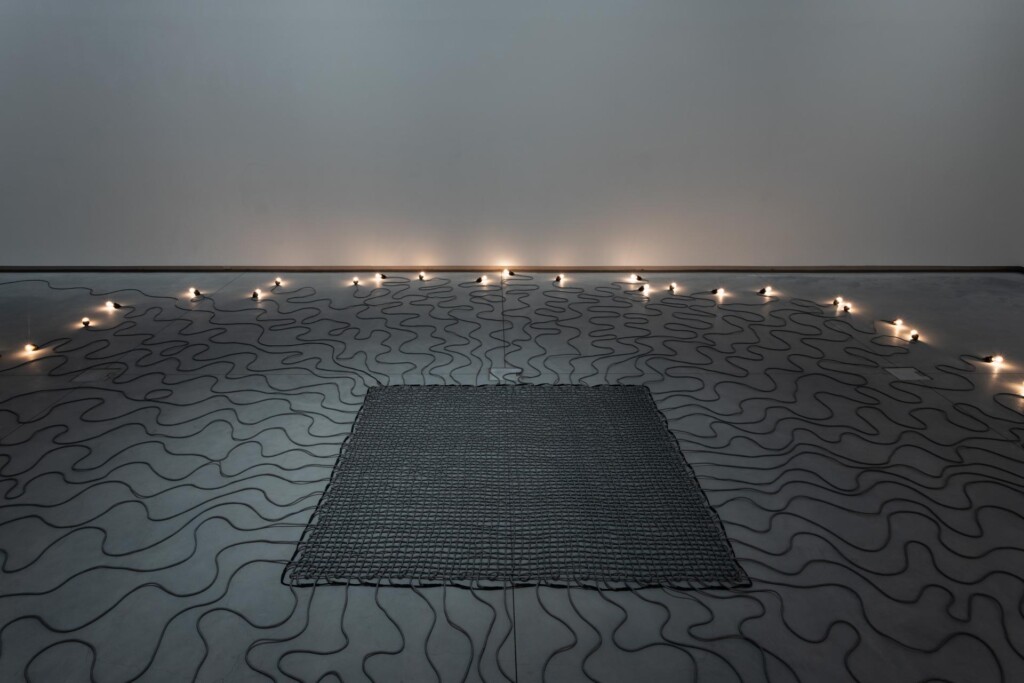 Hatoum arrived in Stockholm in 2003 with a bag full of samples of cloth covered cables. She wanted to work with forms and techniques that brought to mind the idea of home and to utilise the traditional craft of weaving. She had already created a great number of textile artworks and through this process had experimented with weaving electric cables. She carried out extensive research into materials and technical solutions. Further into the production process, we started to talk about the actual form of the piece – a loosely woven square rug measuring 2 x 2 metres woven out of grey, cloth covered electric cables – the type used for domestic appliances such as irons or electric heaters. The rug was woven in Stockholm, using a simple loom – a frame with wooden pegs – around which the cables were attached.
Long fringes of cables, like tentacles, unravel out of the rug's central woven square, meandering across the floor of the exhibition space, a light bulb attached to their ends. The light bulbs are connected to a dimmer device which fluctuates the intensity of the light, making the bulbs fade in and out, in a slow breath-like pulse.
"The light fluctuations in Undercurrent may also be experienced as a rhythm or series of tones, just like music. In fact, we talked a great deal about silent music during the development of the work." Richard Julin
Roadworks, 1985
In contrast to Undercurrent, whose expression and materials refer to a domestic setting, Roadworks is a video documentation of an action that took place in 1985 in the streets of Brixton in South London. Brixton is an area of London with a large Afro-Caribbean population which had experienced violent race riots in previous years, resulting in a prominent police presence throughout the area.
For this action, Hatoum walked barefoot, dragging a pair of large Doc Martens boots behind her attached to her ankles by their laces. This brand of boots was traditionally worn by the police as well as by skinheads who were known for their racist violence.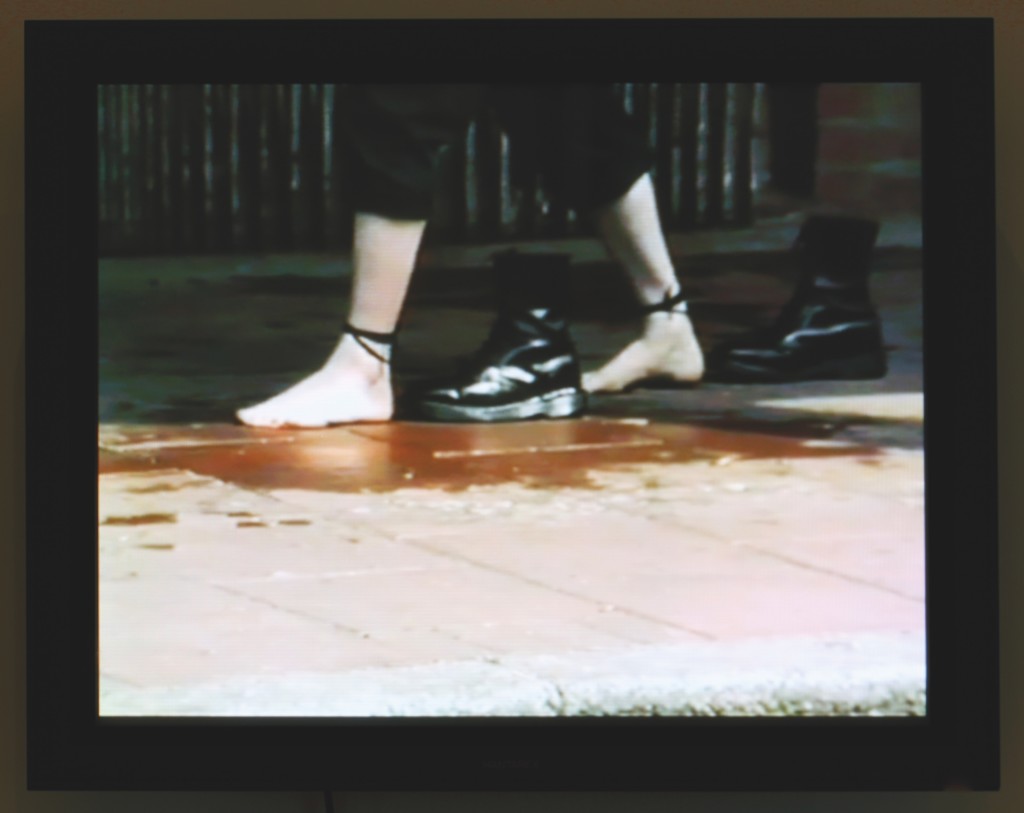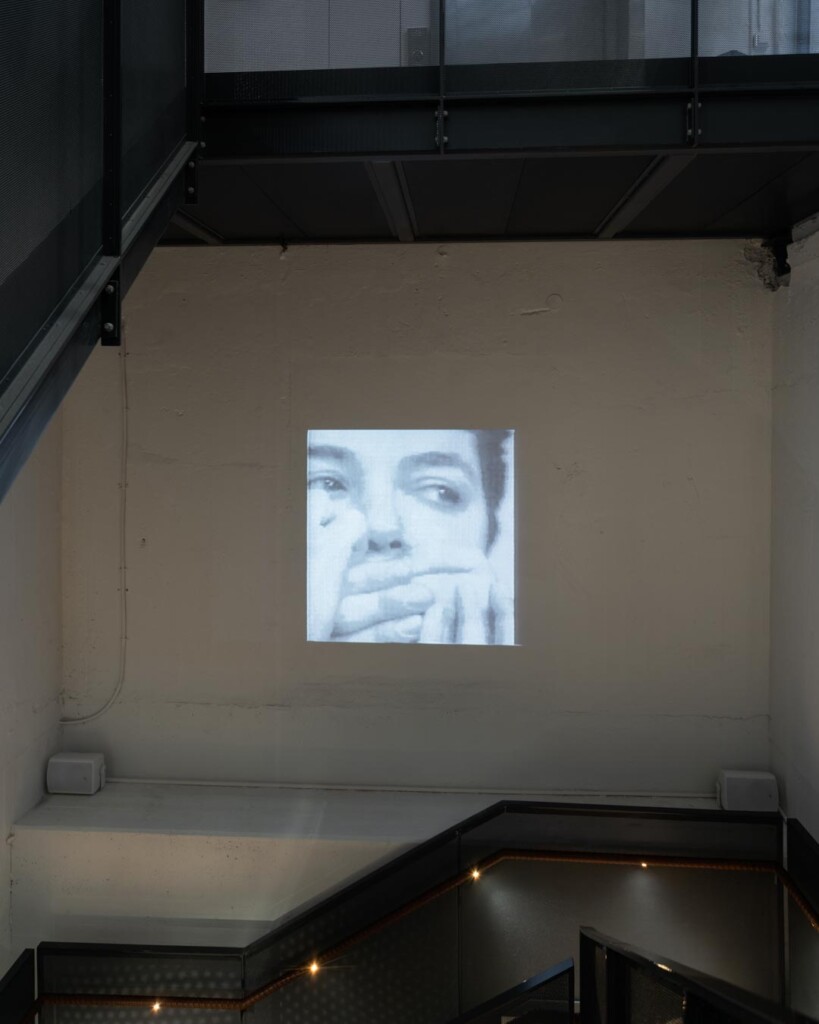 So much I want to say, 1983
In So much I want to say, a series of still images unfolds every 8 seconds, revealing the face of a woman in close-up, gagged by two male hands to obscure most of her features. The sound track features a female voice repeating the words "So much I want to say", a resonant phrase which we hear over and over again.
The work was filmed in Vancouver and transmitted to Vienna during a Slowscan video exchange. Using the procedure of satellite transmission, Hatoum hoped to interrupt and subvert the idea of the easy flow of information through electronic media.
Richard Julin, Artistic Director and curator for the exhibition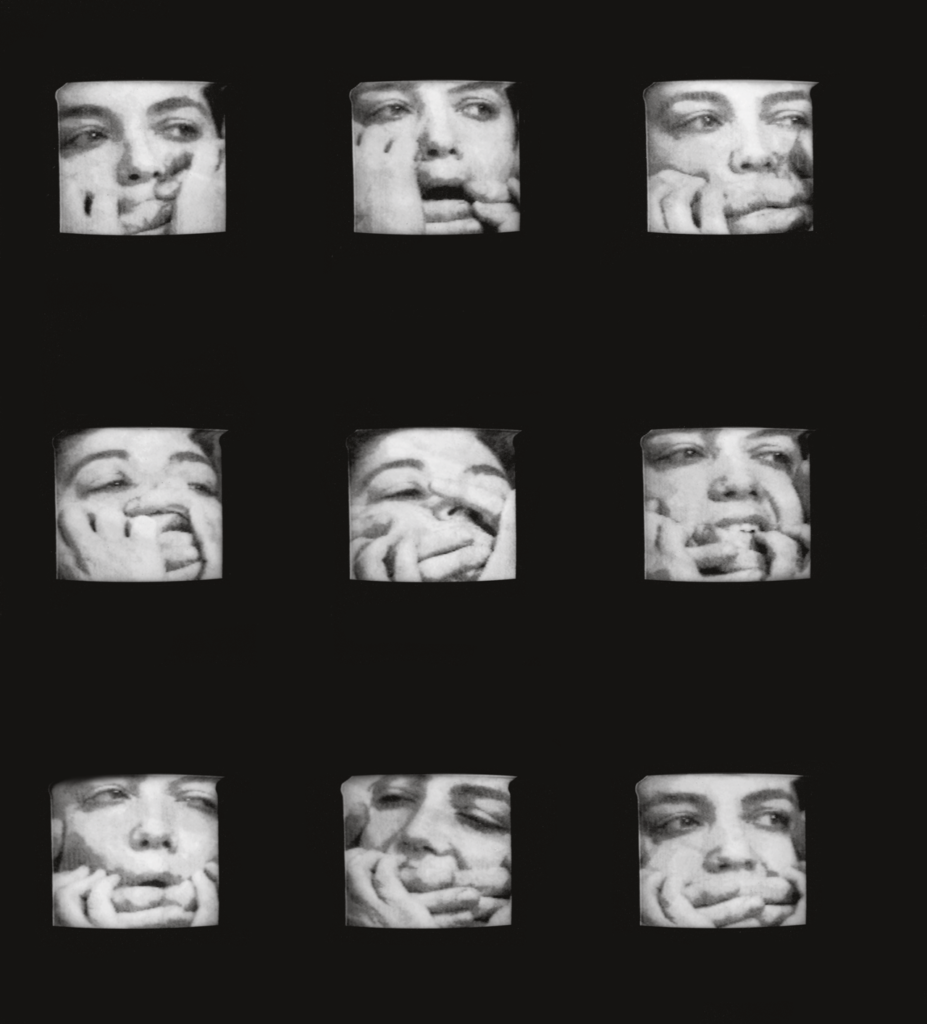 About Mona Hatoum
Mona Hatoum was born in 1952 to a Palestinian family in Beirut, Lebanon. While she was on a short visit to London in 1975, the Lebanese civil war broke out and prevented her from returning home. She has lived in London ever since. Hatoum has participated in numerous prestigious international exhibitions, including the Venice Biennales (1995 and 2005), Documenta, Kassel (2002 and 2017), the Bienniale of Sydney (2006), the Istanbul Biennial (1995 and 2011) and the Moscow Bienniale (2013).
Hatoum's latest solo exhibition in Sweden took place at Magasin III in 2004. Recent solo exhibitions include a major survey organised by Centre Pompidou, Paris (2015) that toured to Tate Modern, London and KIASMA, Helsinki (2016) and a US tour initiated by the Menil Collection, Houston (2017) that travelled to the Pulitzer Arts Foundation, St Louis (2018). She has a long list of international distinctions which include being awarded the Joan Miró Prize (2011), the Rolf Shock Prize given by the Royal Swedish Academy of Arts (2011), the 10th Hiroshima Art Prize (2017) and the Praemium Imperiale (2019). More recently she received the Julio González Prize 2020 from IVAM – Institut Valencià d'Art Modern, Valencia, Spain, where she had a large solo exhibition in 2021.
Accelerator and Magasin III – Two Institutions in Dialogue
Accelerator and Magasin III have a long shared history. The idea of creating an art gallery at Stockholm University has its roots in the Master programme Curating Art, and in conversations between the university and Magasin III. The project was instituted in 2015 by the university's president and the gallery is housed in a previous subterranean laboratory for research into accelerator physics. The impelling force behind Accelerator is an ambition to contribute to an open and democratic society by allowing art to spur conversations and interdisciplinary dialogue. Tasked with actively collaborating with civil society, Accelerator was inaugurated in September 2019 and is part of Stockholm University. Magasin III Museum for Contemporary Art and the Robert Weil Family Foundation are Founding Patrons of the art gallery.
Read more about Accelerator's history
Credits
Mona Hatoum, Artist
Exhibition team Accelerator:
Richard Julin, Curator and Artistic Director
Therese Kellner, Curator
Erik Wijkström, Exhibition Technician
Sofia Rickberg, Communications Manager
Jelena Jovičić, Project Leader Art + Research
Ruby Brown, Intern
Accelerator wishes to thank:
Mona Hatoum
Luís Manuel Araújo and Riet Timmerman at Mona Hatoum Studio
Magasin III Museum for Contemporary Art