Oedipus in Search of Colonus
Various types of territories and who governs them is the focus of Accelerator's spring exhibitions. Physical, geographic, juridical, mental and spiritual areas will be explored. It may be national borders and the right to live where one wants, but also territories beyond the domains of humans, life and death.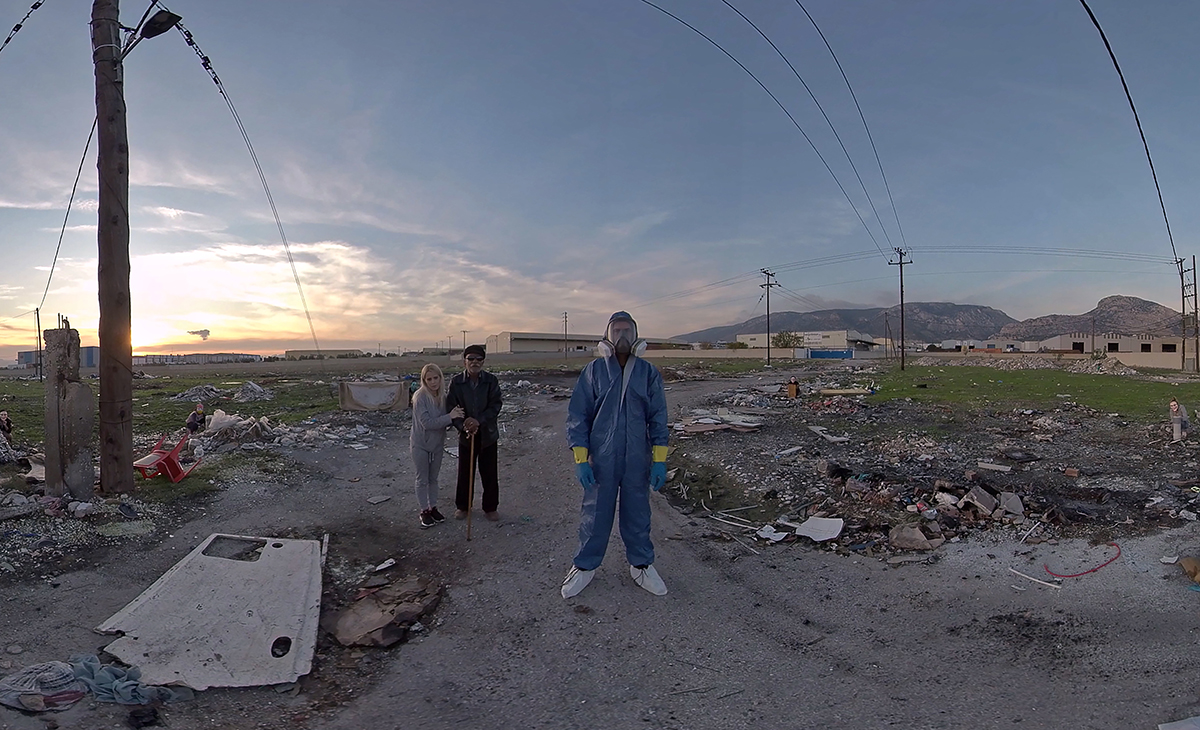 About the exhibition
Greek artist Loukia Alavanou's acclaimed work from the Venice Biennale, Oedipus in Search of Colonus, is coming to Stockholm and will be presented at Accelerator. Using VR technology, Alavanou transports the viewer to a Greek shanty town populated by Roma, making it the scene for a modern version of Sophocles's ancient drama. In allowing the classic drama to portray our time Alavanou raises questions of belonging, inclusion and empathy.
The exhibition is curated by Richard Julin.
About Loukia Alavanou
Loukia Alavanou is a moving image artist and filmmaker,
and holds an MA in Photography from the Royal College of Art, UK.
Alavanou represented Greece at the 59th Venice Art Biennale. Alavanou's work has been presented by institutions including Centre Pompidou, Palais de Tokyo, Gucci Garden, Palais de BOZAR, Fiorucci Art Trust, The Museum of Cycladic Art, Athens Biennale,Trust Kino Der Kunst, Palais de BOZAR, Fiorucci Art Trust, The Museum of Cycladic Art , Athens Biennale, Benaki Museum. Her films are part of numerous collections including the Onassis Collection, the Dakis Joannou Collection, The Center for Art and Media Karlsruhe/ ZKM, PCAI/ Polyeco Contemporary Art Initiative.
Credits
Artist
Loukia Alavanou
Exhibition team Accelerator
Richard Julin, Artistic Director
Therese Kellner, Curator
Curator of ´Oedipus in Search of Colonus´at the Greek Pavilion of the 59th Venice biennale
Heinz Peter Schwerfel
Architecturaland Installation Design
Korres Engineering
Sound Designer
Manolis Manousakis
Head of Construction 
Martin Tabaku
VR Supervision
Phaidonas Gialis
Commissioner at 59th Venice Biennal
National Galleryof Greece– Alexandros Soutsos Museum
FILM CREDITS – "On The Way To Colonus"
Producer
VRS [Virtual Raw Synerge]
Writer / Director
Loukia Alavanou 
360 Cinematographer
Yannis Kanakis 
Music / Lyrics
Elbrus Hysenaj 
Editing
Natalia Papadopoulou, Loukia Alavanou
Animation 
Haris Laloussis Em Kei
Actors
Oedipus: Panagiotis Tsiriklos 
Antigone: Mary Louloudaki 
Creon: Evangelos Tsiriklos 
Narrator's Voice: Alexandros Mylonas 
Antigone's Voice: Rena Kyprioti 
Voices of Oedipus & Creon: Gregory Patrick Karr 
The installation was funded by the Greek Ministry of Cultureand Sports.
The film was Powered by Onassis Culture. With the support of PCAI/ Polygreen Culture and art Initiative.