The Right to Opacity: Art + Research Workshop in Collaboration with CinemAfrica
In collaboration with CinemAfrica, Accelerator is organizing a workshop led by Manthia Diawara, professor at New York University. Artists and researchers are invited to engage with the work of the writer and philosopher Édouard Glissant, with a focus on his thoughts on "the right to opacity." You are invited to read two texts that will be distributed prior to the workshop and to engage in discussion with Prof. Diawara and other invited participants. The workshop is free of charge but signing up is required. It will be held in English.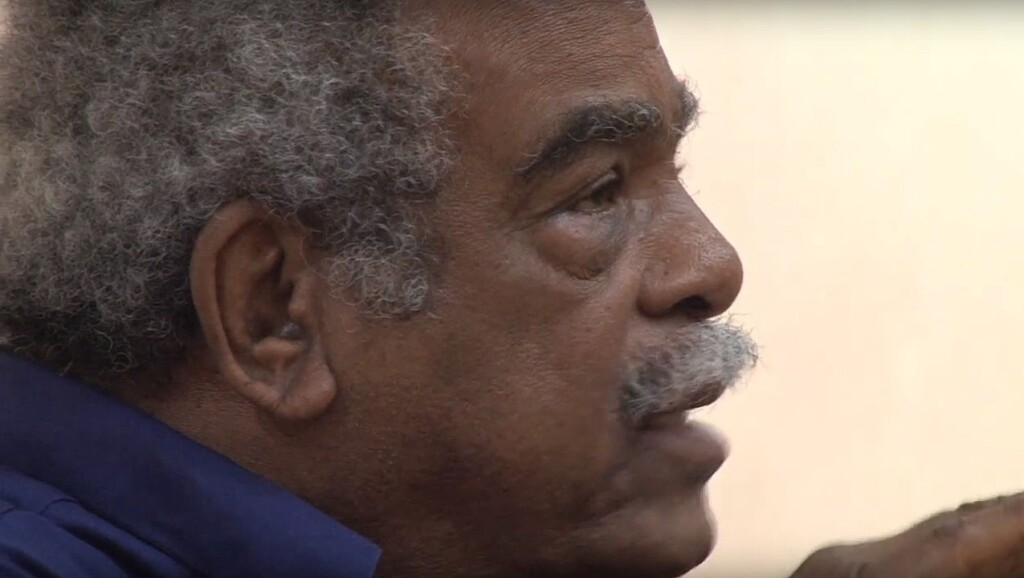 We clamor for the right to opacity for everyone. – Édouard Glissant,"Poetics of Relation"
Sign up
RSVP: To sign up for the workshop, please email accelerator@su.se with name, email address and preferably organization/occupation before 9 March. Places are limited. This is a live event at Accelerator, no online participation.
Reading material will be sent approx. 7 days before the workshop for preparations. You are invited to read two texts and to engage in discussion with Prof. Diawara and other participants.
Questions? Contact:
Christian Rossipal, Programmer, CinemAfrica christian@cinemafrica.se
Jelena Jovicic, project leader Art + Research, Accelerator jelena.jovicic@su.se
How do we orient ourselves within Western knowledge-producing institutions if we refuse the idea that the so-called Other needs to be fully grasped and reduced to scientific measure? Are artistic approaches and methodologies a way forward or are they susceptible to the same search for absolute transparency? Together with professor Manthia Diawara, artist Salad Hilowle and curators Mmabatho Thobejane and Ulrika Flink, we invite you to engage with the work of Édouard Glissant; especially his thoughts on opacity and "the right to opacity" for all. Glissant writes: 
If we examine the process of "understanding" people and ideas from the perspective of Western thought we discover that its basis is this requirement of transparency. In order to understand and thus accept you, I have to measure your solidity with the ideal scale providing me with grounds to make comparisons and, perhaps, judgements. I have to reduce… For the time being, perhaps, give up this old obsession with discovering what lies at the bottom of natures. There would be something great and noble about initiating such a movement, referring not to Humanity but to the exultant divergence of humanities. Thought of self and thought of the other here become obsolete in their duality. Every Other is a citizen and no longer a barbarian… it would be the real formation of Relation, in freedoms" ("Poetics of Relation", 189-190). 
Glissant invites us to think about the requirement for transparency as the basis of Western thought, as well as alternative ways to conceive of difference in opacity. You are invited to bring your own perspectives – be it from personal experience, artistic practice, or academic work – to engage with these ideas and to think them through together in an informal setting.
Bios
Édouard Glissant (1928, Martinique–2011, Paris) was a writer, poet, philosopher, and one of the most influential figures in Caribbean thought and Francophone literature of the 20th century. His singular body of work can be situated within the field of postcolonial studies, if obliquely, and some of Glissant's most notable ideas relate to opacity and what he famously called the Poetics of Relation.
Manthia Diawara (b.1953, Mali) is a filmmaker, author, and professor of Cinema Studies and Comparative Literature at New York University. Prof. Diawara is the author of We Won't Budge: An African Exile in the World (Basic Civitas Books, 2003), Black-American Cinema: Aesthetics and Spectatorship (ed. Routledge, 1993), African Cinema: Politics and Culture (Indiana University Press, 1992), and In Search of Africa (Harvard University Press, 1998). Professor Diawara also collaborated with Ngûgî wa Thiong'o in making the documentary Sembene Ousmane: The Making of the African Cinema, and directed the documentary Rouch in Reverse, as well as Édouard Glissant: One World in Relation (2000). His most recent work – the multi-screen installation Towards the New Baroque of Voices (2021) – has been shown at the São Paulo Art Biennial and Amant Gallery in Brooklyn, New York.
Salad Hilowle (b. 1986, Somalia) is a filmmaker and artist based in Sweden. A common thread in his body of work is the exploration of Afro-Swedes in art history. A Bernadotte grantee of 2020, Hilowle holds an MFA from the Royal Institute of Art in Stockholm and his prior education includes Konstfack, Linköpings universitet and Glendale Community College, Los Angeles. Solo exhibitions include: Publikt, Kulturhuset (Stockholm), Vanus Labor, Konstakademien (Stockholm); Home Is Where the Heart Is: Part II, Österängens konsthall; Buurha u Dheer (Passion of Remembrance), Kungliga konsthögskolan (Stockholm); Home Is Where the Heart Is, Konstfack Gallery (Stockholm); and Brev till Sverige, Tierp konsthall. Hilowle lives and works in Stockholm. His new short film Sylwan will premiere during the CinemAfrica film festival 17-20 March, 2022.
Mmabatho Thobejane (b.1994, South Africa) is a curator based in Stockholm whose practice and research focus on black and decolonial feminisms as sites that excavate and enact healing and just ways of being. She is currently curator and editor at the Mirror Institution and the process leader and curator for Samlande Tankar/Collecting Thoughts, a project undertaken by Grafikens Hus as they formulate a method for collecting. Prior to her work in Sweden, Thobejane worked at the Centre for Curating the Archive in Cape Town. She holds an MA in Curating from Stockholm University and a BA in Curatorship from the University of Cape Town.
Ulrika Flink is the Artistic Director of Konsthall C. She is a curator based in Stockholm, and is co-founder of the curator collective Parallellogram. Before the position at Konsthall C, her show Somewhere in Between, at Borås Konstmuseum, explored memory of landscape, national identity and the role of myth in history-making. On an international level Ulrika has curated shows including the prestigious Nordic biennial Momentum 9, 2017, an important arena for Nordic contemporary art set in Norway. She has previously worked at Grafikens Hus, Tensta konsthall, Autograph ABP (London), Tate Modern and Bonniers konsthall. She has an MA in Curating Contemporary Art from Royal College of Art, London.