Hross is part of the ongoing collaboration between Accelerator and the International Master's Programme in Curating Art at Stockholm University. The students create events in connection to themes that Accelerator wishes to highlight in the exhibition programme. This project is curated by the online platform Seaslug.
Seaslug presents an audio experience 'Hross' by the artist tm (Tove Möller). tm invites listeners to imagine if we were once horses. When we were a flock a heard a pack or a crowd. Never leaving anyone behind. The mythological sound experience envelopes the listener through music, poetry, and sounds of horses.
'Hross' is a sound art piece that will be available for listeners online, and in the café area of Accelerator from the 29th of September to the 27th of October, where you can also find a QR-code that directs you directly to the piece.
We encourage listeners to extend their visit to Accelerator by listening to "Hross" before visiting the exhibition space, on their way home, or another space. The piece is a supplement to the exhibition experience and a meditative reflection on humans and horses.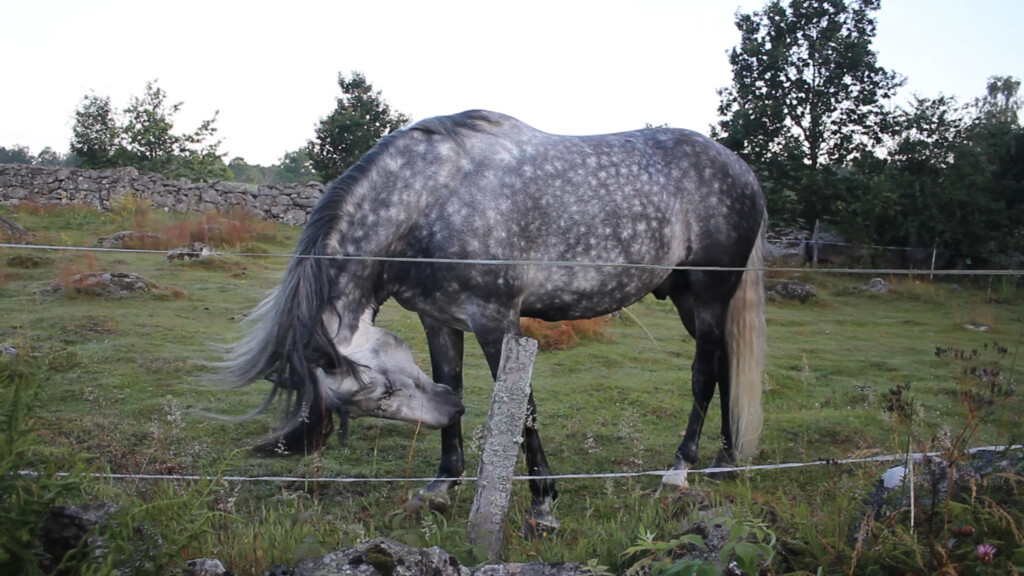 I think we once were horses
I think we once were horses
we once had tails and manes and hooves
we were a flock a heard a pack a crowd
never leaving anyone behind
never
creating one body
keeping the old and the fragile in the middle
protecting them from predators
we even took turns breathing if we had to
we moved forward in circles
moved forward in circles
forward in circles
in circles
like a tornado
we moved forward in circles
created wind together
created storms
– tm
Participants
tm (Tove Möller) b. 1986, Sweden has an MFA from the Royal Institute of Art in Stockholm, 2022. Their creative practice is multidisciplinary, focusing on text, sound, and sculptural installations made from collections of site-specific material, often within ecological environments. Their research-based approach centers around ideas of collecting, listening, and imagining from a perspective of care, kinship, and queering. tm is also a band member of 'Radula'. 21/9 2022 Select group and solo exhibitions include: Det Brinner och Till vem det berör – MFA Mejan – Konstakademien – 2022, Ingen Å är en Ö, Oraklet säger: ett hål är en ihålig hög – grupputställning Rydals museum – 2022, Tunnel Vision – Nobel light week – 2021, Darkroom – Detroit Stockholm – 2019, For new beginnings – Pioneertown – 2019.
Seaslug is an independent online platform providing a guide to Stockholm's art scene. The website includes a calendar and an overview of exhibitions, performances, art spaces, and other cultural events that are happening around the city. Besides the website, seaslug has an Instagram account with updates on Stockholm's art scene. Seaslug is run by Katinka Saarnak, Jeanette Gunnarsson, Ali Razzak, and Laus Østergaard. 
Credits
Recording and editing: tm (Tove Möller)
Drums: Daniel Holmström
Curators: Seaslug (Ali Razzak, Jeanette Gunnarsson, Laus Østergaard & Katinka Saarnak).