A Different Look at… Frescati
In the area around Stockholm University we are looking for traces of scientists and colonisers but also for centuries of Sámi presence. We welcome you to participate in a performative walk with artist Hanni Kamaly, curator student Lina Aastrup and archeologist Jonas Monié Nordin, Stockholm University. Artist Malin Lin Nordström contributes a sound piece.
A Different Look at… Frescati. A Performative Walk in Two Acts
If we look around, what do we see? What do the monuments and the places surrounding the university tell us? When were the monuments erected, why and by whom? How were the places named, what do they say to us today?
During the first act of the performative walk, Hanni Kamaly highlights issues related to who is heard and who is silent, whose memory is immortalised in sculptures and monuments and how art has contributed to the formation of a national identity.
In the walk's second act, we continue into the forest accompanied by Malin Lin Nordström's sound piece. On arrival at Lappkärret, we listen to a conversation between Lina Aastrup and Jonas Monié Nordin on the place name and the Sámi presence in the history of Stockholm.
The walk starts and ends outside Accelerator at Stockholm University, Frescativägen 26A. Participation is free of charge.
Language: Swedish.
Duration: approx. 90 minutes.
Distance: some 3 km.
NB: You need a charged smart phone and headphones for the sound piece.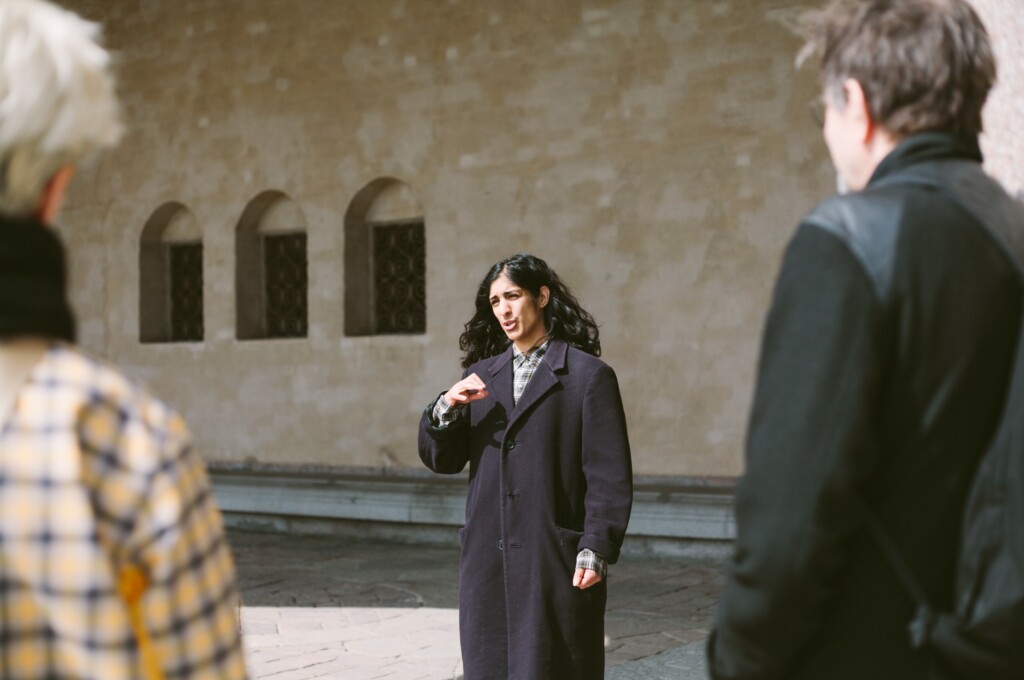 Participants
Hanni Kamaly is a visual artist based in Stockholm, who primarily works with video, sculpture and performance. Born in Norway, Hanni Kamaly was educated at Malmö Art Academy, the Bergen Academy of Art and Design and the International Academy of Art Palestine in Ramallah. Kamaly's work has been exhibited in numerous institutions and spaces including i.e. Moderna Museet, Malmö; Index, Stockholm; Interkulturelt Museum, Oslo, Ginerva Gambino, Cologne, the Luleå Biennial and the São Paulo Biennial.
Lina Aastrup is in the process of completing her studies on the International Master Programme Curating Arts at Stockholm University. In April 2022, she curated the exhibition PRE-EXODUS, featuring artist Solenne Tadros, at Accelerator. Prior to studying at Stockholm University, Aastrup curated the exhibition Meltdown – A Visualisation of Climate Change at the Museum of Natural History in Vienna and has continued to pursue her interest in art that explores the relationship between people and landscape. Lina Aastrup holds a BA in art history from Stockholm University.
Jonas Monié Nordin is an associate professor of historical archeology and works at Stockholm University, Lund University and the Swedish History Museum. The author of many books, his most recent is entitled The Scandinavian Early Modern World: A Global Historical Archaeology, published in December 2020. Jonas Monié Nordin's main areas of interest are globalisation, modernity, colonialism, Sámi history, sub-arctic archaeology and collection history.
Malin Lin Nordström's artistic practice investigates ways to relate to nature and how to dissolve dichotomies or deal with loss and longing through sculptures, performances and audiovisual installations. Through relational and community projects she creates spaces for people to share experiences and build a sense of agency and hope. Nordström is based between Tromsø, Norway and Stockholm, Sweden and is currently finalising her MFA at Konstfack. BFA from Tromsø art academy.
A different look at…
In a cooperation between Tensta konsthall and Accelerator at Stockholm University, we gather to look at places and objects with connections to colonialism and racism. The purpose of the series is to have open conversations about the places' history, present and possible future, and to discuss how a relevant and inclusive cultural heritage can be formulated.
Can we look at what has been with other eyes? Each other's eyes? Can other stories open up for a re-evaluation of cultural heritage?
Upcoming program in the series A different look at…
20–21 May: A different look at… Messaure and Njuoravuolle with Katarina Pirak Sikku
The main destination for this trip is Messaure outside of Jokkmokk, where a dam has put a whole village under water. During one day, together with artist Katarina Pirak Sikku and specially invited guests, we will talk about erased places, lost heritage, discuss and imagine a possible future around these sites.